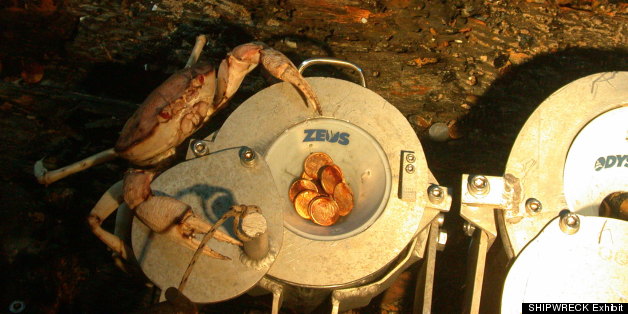 Arrrrr you a good treasure hunter?
Get your pirate booty in gear; a three-day, free-of-charge, public treasure hunt starts in New York City on May 20, and the winner takes home a chest containing $10,000 worth of shipwreck artifacts.
The hunt leads participants throughout the city -- those outside the city can take part online -- and a clue given out between 6 and 10 p.m. each day will eventually lead them to the top secret treasure.
It's all part of Discovery Times Square's launch of the SHIPWRECK! exhibit on May 24, which features hundreds of deep-sea artifacts unearthed by Odyssey Marine Exploration. Over the past 20 years, the team has discovered 2,000-year-old Roman wrecks, WWII U-boats, and even 40 tons of silver from a shipwreck that's three miles deep, according to their website.
Exhibit-goers can also pilot a virtual submersible, face 75-mph winds in a hurricane simulator, and operate the arm of ZEUS, Odyssey's remote exploration vehicle.
Click here to register for the treasure hunt. Those who participate in-person will get the first clue after registration. Online treasure seekers will get a clue by email every morning of the contest, which concludes on May 22.
BEFORE YOU GO
PHOTO GALLERY
SHIPWRECK! Exhibit Treasure