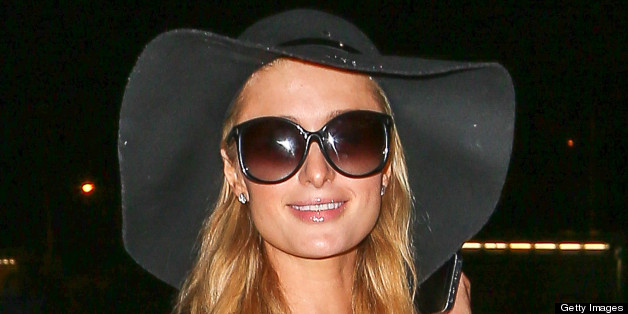 Paris Hilton is one of the centerpieces in Sofia Coppola's "The Bling Ring," even though the heiress and reality star only appears in the film for a brief second. That's because "The Bling Ring" focuses on the title criminals, a group of California teenagers who robbed from Hilton, Lindsay Lohan, Orlando Bloom and other stars from 2008 through 2009. Hilton's involvement goes beyond just the story: She lent her house to Coppola for the burglary scenes.
"Sofia came to my birthday party last year," Hilton told THR. "She loved my house and said it couldn't be re-created in a set."
Despite being a small part of the production process, Hilton had not seen the finish film -- at least until it debuted at the Cannes Film Festival on Thursday. So, what did she think?
"I was really emotional watching it," Hilton told Vulture writer Kyle Buchanan at a swank Cannes after-party for "The Bling Ring" on Thursday night. "During some parts of it, I literally had tears in my eyes and I wanted to cry."
Hilton said she enjoyed "The Bling Ring," putting her in league with a number of other high-profile film critics.
"Coppola's uproarious and bitingly timely film feels every inch a necessary artwork: the story is closely based on a string of true events that occurred in 2008 and 2009, but if it hadn't actually happened, someone -– Coppola, probably -– would have to make it up," Telegraph critic Robbie Collin wrote in a four-star (out of five) review.
For more from Hilton, including what she said when a fan asked for a photo with her, hit Vulture.
[via Vulture]
PHOTO GALLERY
Cannes Film Festival
BEFORE YOU GO