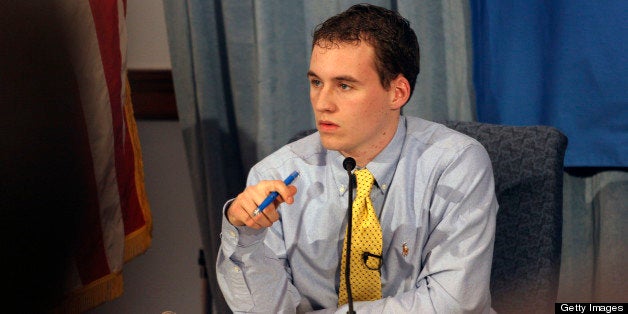 Some parents hope their children follow in their footsteps. One mayoral candidate in Michigan, however, is seeking to follow the path once walked by his own teenage son.
Scott Sessions is city councilman and a candidate for mayor of Hillsdale, Mich. He's running for an office his son, Michael, won in 2005 as an 18-year-old high school senior, catapulting him, and the city of 8,000, to international attention.
Scott Sessions says he's chosen to focus his time in city government and his mayoral campaign on the issues, rather than his son's turn in the spotlight.
"We had a city income tax they wanted to propose and I did not want a city income tax," Scott Sessions told The Huffington Post of his initial 2011 city council race. "That was one of my biggest motivators to run. I wanted my voice to be heard."
Sessions is now opposing Councilman Brian Watkins in the nonpartisan mayoral race. He said that while his son's four-year tenure exposed him to the proceedings of city government, he did not play a role in city affairs at the time.
Watkins said he remains undaunted in the face-off against the father of a former mayor.
"While I recognize the fact that Councilman Sessions' son garnered international attention for being elected mayor at 18 is of note, I don't feel that fact will have any impact in the election," Watkins said in an email. "The novelty of his son's election wore off very quickly, and not much attention has been made of it since, especially locally."
Now 25 and working for a health care nonprofit in Detroit, Michael Sessions said his dad has what it takes to be mayor and said he's willing to offer advice.
Michael Sessions was elected as a write-in candidate in 2005, defeating an incumbent who was the only candidate on the ballot. His time in office was marked by a policy focus on economic development, which at times was overshadowed by the young mayor's personal issues. In 2007, he pleaded no contest to a misdemeanor after he wrote an email under a fake name to the mother of his former campaign manager. The same year, he successfully battled testicular cancer.
He told HuffPost the 2007 incident was a learning experience. "Being elected at 18 is tough. There is a lot riding on you to be the perfect person," he said. "One thing I learned is we are not angels. There was a lot of maturing that had to go on. At first I thought I was there. There are a lot of temptations. You want to have fun with your friends."
Scott Sessions isn't the first parent to try to follow his child into elected office. In New Hampshire, state Rep. Deanna Rollo (D-Rollinsford) was first elected six years after her son, Mike, who's since left office. In 2010, New Hampshire voters elected a second mother-son duo, Laura and Kyle Jones, to the state House.
In Wyoming, state Rep. David Zwonitzer (R-Cheyenne) was elected to the state House two years after his son, state Rep. Dan Zwonitzer (R-Cheyenne) was elected in 2004. The younger Zwonitzer said there are benefits to having his father join him in the state legislature.
"It's an asset to have someone in politics you can always trust who will be straight-forward talking with you on issues, even when you disagree," he said. "You look for each other, because technically your last name is always on the line regardless of which one of us does something positive or politically risky."
BEFORE YOU GO
PHOTO GALLERY
U.S. State Capitol Buildings