Remember Japanese burger chain Lotteria? It previously made headlines for its crazy five-patty burger. Now it's back with another burger creation -- the Napoli Panda Burger. Don't worry -- there's no actual panda meat.
Instead, this burger features a pile of spaghetti with tomato sauce on the patty. And the bun is stamped with the image of two pandas (mama and baby?). Why, you may ask, does this burger exist? It's not immediately clear. But hey, look, it's a panda! On a burger!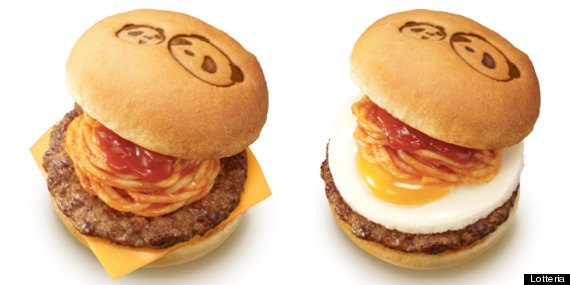 The burger is available with spaghetti and cheese for about $3.39 or spaghetti and an egg for about $3.59.
Here's a video of the burger, up close and personal:
[h/t Serious Eats]
BEFORE YOU GO
PHOTO GALLERY
Fast Casual Burger Chains To Watch