The maker of zombie-themed shooting targets has rolled out a cheeky, somewhat confusing publicity stunt to help sell its controversial products. Zombie Industries is claiming on its website that its redesigned female "ex" mannequin, which bleeds when a bullet hits, is "Feminist Approved thanks to the Huffington Post."
HuffPost, which is in no way affiliated with the zombie maker or the bleeding target, previously reported that the mannequin was redesigned amid public outcry that it looked too much like a human female. The mannequin has been remade with green skin.
Scroll down to see photos.
The company is also offering a 20 percent discount on the bleeding target to customers who enter "HUFF13" at checkout.
Zombie Industries CEO Roger Davis told HuffPost that the shout-out was a way to "poke fun" at the Internet newspaper after its coverage of the company over the last few months. The mentioning of HuffPost next to the product is not meant to insinuate that the news organization actually endorsed the item, he added.
"I think that your coverage helped bring to light the sensitivity of abused women and the travesty of it, so that brought attention to it and we decided to be sensitive to the market," Davis said.
The HuffPost call-out appears to be part of a larger sarcastic campaign centered around recent negative media attention directed at Zombie Industries. On its home page, the company writes, "Don't let the liberal media allow your imagination [to] run wild with silly ideas... there is no political motivation... we feel ALL Zombies should die regardless of who they were!"
"We weren't selling a human being. We were always selling a zombie," Davis said. "I feel like the media really wanted to run with the story, and everyone went with it."
On one page, above the logos of HuffPost, The Wall Street Journal, BuzzFeed and other news outlets, Zombie Industries writes, "The media loves us! Thanks you!"
See the screen shots from Zombie Industries' website: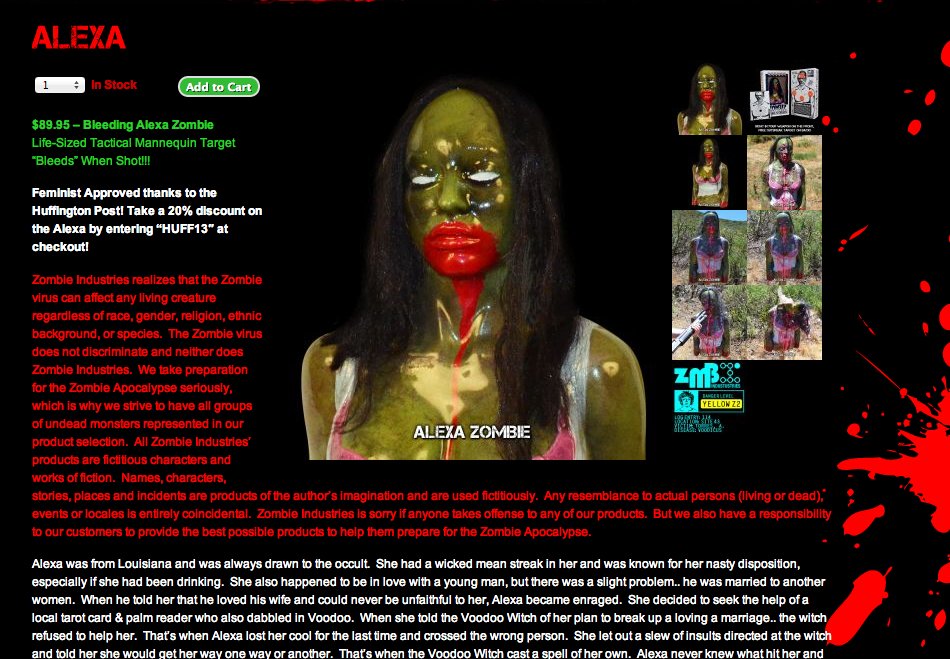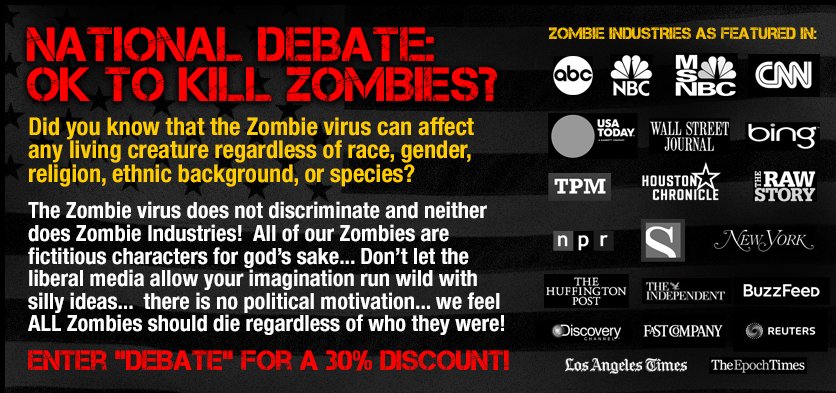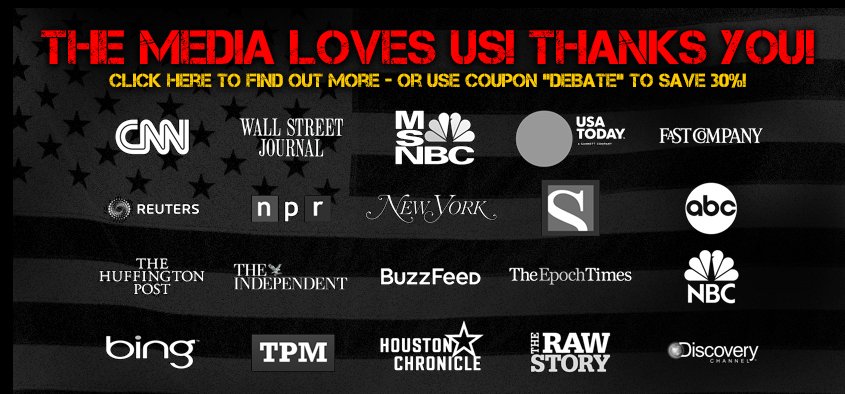 BEFORE YOU GO
PHOTO GALLERY
Epic Product Fails