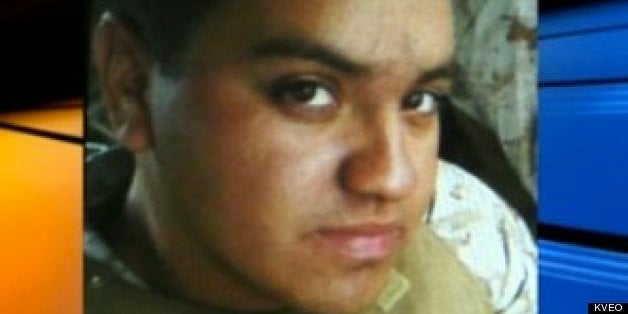 Armando Torres, who served as a Marine for seven years, was visiting his father in a small city in Mexico across the Los Indios bridge Tuesday night, but failed to return as planned. Family members told NBC affiliate KVEO that Torres, along with two other family members from Mexico had been "picked up" by men with weapons.
"A cousin of ours from Mexico contacted his sister, and then his sister called us that he was picked up there in Mexico," Eduardo Torres, the former Marine's uncle, told the station. "He never goes to Mexico... [but] he just decided to go over there and visit his dad."
The family has filed a missing persons report with the Hidalgo County Sheriff's Department, and has brought the matter to the attention of the Mexican Consulate in Brownsville, Texas.
Friends and supporters of Torres are attempting to spread awareness of this disappearance via the Internet. An open Facebook group, "Get Our Brother Back," has been started May 17. A Reddit discussion thread posted by a user claiming to be a friend of Torres' received more than 3,200 "upvotes" after it was created May 18.
"I know this... has been happening all the time down there, but you'd never expect a guy you've deployed with, lived with, and spent hours upon hours... with to be the one," wrote user zachpoo, who started the thread.
Citing numbers from Mexico's Federal Police, Mexican newspaper El Universal wrote that 1,093 kidnappings were reported in Mexico from January to September of 2012. That figure equated to approximately 4.5 cases per day, but some organizations think the rate is much higher.
According InSight Crime, a site specializing in analysis of organized crime in the Americas, the police numbers ignore "express kidnappings," where victims are detained for a matter of hours, in exchange for a ransom payment.
BEFORE YOU GO
PHOTO GALLERY
10 Major Crimes That Shocked the Nation (SLIDESHOW)