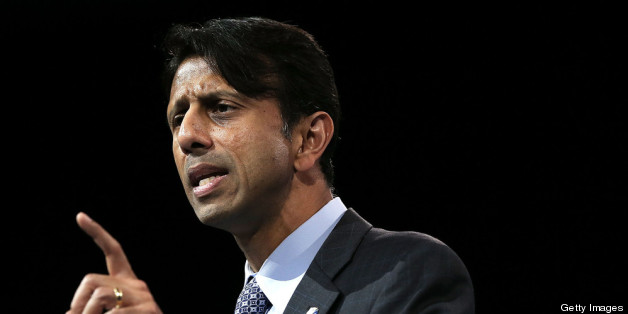 Louisiana Gov. Bobby Jindal kicked off the state Republican Convention in Richmond last night, telling a packed house that Ken Cuccinelli, the GOP nominee for governor, has the courage of his convictions.
Jindal, a son of immigrants from India who is a potential 2016 presidential candidate, also called upon the national Republican Party to fight for "100 percent of the votes" and to unite the country.
"If we want Americans to like us, we have to like them, first," Jindal said at the Greater Richmond Convention Center.
Jindal's speech closed the first day of the GOP convention. Today at the Richmond Coliseum 14,000 delegates from across Virginia will nominate the party's candidates for lieutenant governor and attorney general.
Jindal praised Cuccinelli, who today will formally accept the party's nomination for governor.
"We live in a time where too many elected officials stick their finger up in the air to see where the wind is blowing," Jindal said.
"I'm tired of these kinds of politicians. I'd rather have a principled, articulate conservative leader. We need Ken to be your next governor because we need that kind of man with courage and convictions."
Jindal also threw a barb at Democratic nominee Terry McAuliffe, former chairman of the Democratic National Committee.
"I do thank the Virginia Democratic Party," Jindal said. "They made the greatest gift possible by making Terry McAuliffe their nominee."
While Jindal has cut taxes six times in Louisiana, including the largest income tax cut in the state's history, he fell out of grace among some on the party's right after his recent remarks that Republicans needed to stop being "the stupid party."
In January, two months after President Barack Obama won re-election, Jindal addressed the Republican National Committee's winter meeting in Charlotte, N.C., where he said several Republicans had damaged the party's brand in 2012 "with offensive and bizarre comments."
In Richmond Friday, he said Republicans can adhere to principle and be inclusive.
"Washington wants us to change our platform and abandon our principles but this country already has one liberal party," he said. "It certainly doesn't need two."
Jindal also praised Gov. Bob McDonnell, who attended the dinner.
"McDonnell has a phenomenal track record," Jindal said. "He promised he'd create good conditions for the private sector and he has done just that."
McDonnell will miss today's balloting. He will be the commencement speaker at the University of Virginia's College at Wise.
Earlier on Friday, Pat Mullins, chairman of the Virginia Republican Party, officially opened the convention at the Richmond Coliseum.
"Isn't it a great day to be a Republican in Virginia?" Mullins asked the crowd as it began pouring into the venue.
"It is always fun to hear our liberal friends say that the Republican Party is dead," Mullins said. "But tomorrow, 14,000 of us will gather here in Richmond. Virginia will stay a conservative state built on the same principles Washington and Jefferson have fought for over 200 years ago," he said.
Today, balloting is expected to begin at noon. The unusually high number of candidates -- five men and two women are seeking the party's nomination for lieutenant governor -- is likely to drag out the balloting over five, maybe six hours.
The candidates are former state legislator Jeannemarie Devolites Davis; attorney and minister E.W. Jackson; Del. L. Scott Lingamfelter, R-Prince William; Sen. Stephen H. Martin, R-Chesterfield; technology entrepreneur Peter A. Snyder; Corey A. Stewart, chairman of the Prince William Board of County Supervisors; and Susan B. Stimpson, chairman of the Stafford County Board of Supervisors.
Sen. Mark D. Obenshain, R-Harrisonburg, and Del. Robert B. Bell, R-Albemarle, are the two Republican contenders for attorney general.
Delegates also will formally nominate Cuccinelli, as the party's candidate for governor. He will give his acceptance speech this morning.
Cuccinelli became the Republican nominee Jan. 14 when he was the only Republican who had filed to run for governor by the party's deadline.
A familiar face missing at the convention is Lt. Gov. Bill Bolling, who announced last week that he would not attend because he favors primaries over a convention's balloting process.
After arriving in Richmond on Friday, many delegates took the chance to network and connect outside the Coliseum before heading into the arena. There was hardly a delegate without a campaign shirt or sticker, showing support for their favorite.
"The Republican Party has a very good field of candidates this year. That's a good sign and will bring us a lot of momentum heading into the election," said Wendell Walker, a delegate from Lynchburg.
"We will not let happen what happened in Virginia in the presidential election last year. Virginia is staying in conservative hands," Walker said.
Snyder mingled with the crowd outside, making a final pitch.
"It's all adrenaline at this point," he said.
Also in the crowd was Stewart. The chairman of the Prince William Board of County Supervisors enjoyed a boost last month after an endorsement by the Virginia Federation of Tea Party Patriots, but came under scrutiny this week when several tea party groups attacked the umbrella organization for backing Stewart.
Stewart was unmoved by the squabble. "The initial endorsement helped us a lot, but we don't know yet the effect of the recent attacks," he said. "I think we're still picking up steam."
The two candidates for attorney general also talked to delegates outside, trying to sway some minds in the final hours before the nominations.
"We're going to see democracy at its base level. It's an exciting process, a very open process," Obenshain said.
Bell said he is more than ready for the balloting. "After one and a half years, more than 10,000 miles on the road, this is coming to an end," he said.
mschmidt@timesdispatch.com
(804) 649-6537 ___
BEFORE YOU GO
PHOTO GALLERY
Which Women Might Run In 2016?