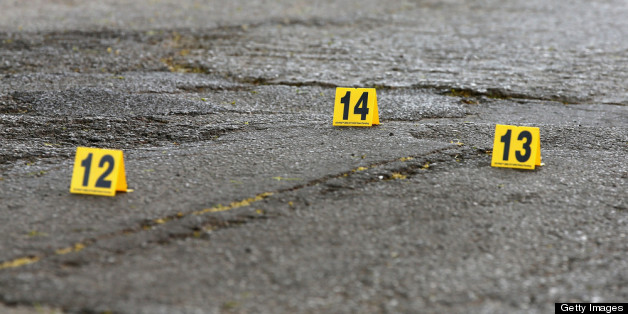 At least 11 people were wounded in overnight gun violence in Chicago -- and three of the victims died.
The first fatal shooting happened around 7:25 p.m. Friday in the 7700 block of South Langley Avenue in the city's Grand Crossing neighborhood.
According to DNAinfo Chicago, 17-year-old Clifton Barney was shot multiple times in the chest when a shooter exited a vehicle and opened fire on him as he was walking. He was pronounced dead at the scene.
About an hour later, 40-year-old Ramar Bonner was found shot to death in the 200 block of North Mayfield Avenue in the city's Austin neighborhood. Bonner had been shot in the back of the head, the Chicago Sun-Times reports.
In the evening's third reported homicide in Chicago, police found a 27-year-old man shot to death in the 4800 block of West Iowa Street around 4 a.m. Saturday and was pronounced dead at the scene. The victim has yet to be identified, according to the Chicago Tribune.
At least eight other people were wounded citywide in non-fatal shootings including a 16-year-old male who was walking with a group of people in the 5400 block of West Wrightwood Avenue when a gunman who approached them on foot and opened fire.
(Read the Tribune for a rundown on additional overnight non-fatal shootings.)
The overnight violence came on the heels of gun violence prevention group CeaseFire Illinois predicting in a Friday press conference that Chicago will continue the trend for March and April and see a historic-low number of homicides and shootings this year. CeaseFire Illinois director Tio Hardiman urged both local and especially national media to take note:
"When we had all the homicides in Chicago in January of this year, CNN came to town. MSNBC came," Hardiman said, according to DNAinfo. "CNN should be here today. MSNBC should be here today. But no violence, no news."
BEFORE YOU GO
PHOTO GALLERY
Crime In Chicago
***