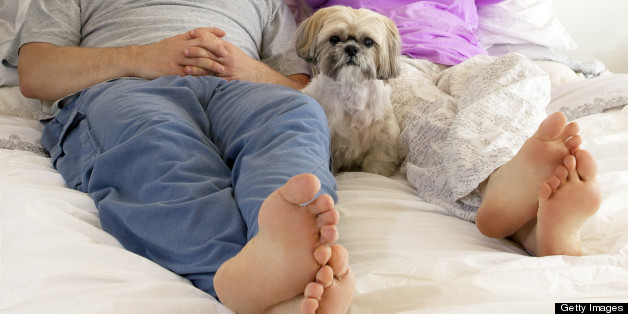 By Natalie Gontcharova for YourTango.com
Even the most loving, stable relationship can end up in a frustrating rut. There you are again on a weekday night, too lazy to cook so you order takeout, and fighting about what to watch on TV.
Remember when you first started dating? Everything was full of wonder, a sense of possibility ... you were positively childlike.
Here are a few ways to recreate that special time by acting like kids again. Who knew children had so much to teach us about relationships?
Catch Up On Cartoons
Spend a morning watching cartoons with milk and cookies. I know single adults who partake in this activity on a regular basis, so there's no shame in donning PJs and doing these kidlike things with your significant other.
Take An Art Class
Take your mind off the everyday work grind by learning a new skill. Try a pottery class, painting class or some other workshop that lets you make something together. You might even take a useful household object home.
Hang With Kids
Play with kids, if you have them -- or maybe you have a favorite niece or family friend. Treat them to a day at the zoo or playground and really listen to what they have to say. It'll be humbling and maybe even help you decide if you want to have kids in the future.
Spend A Day At The Arcade
Remember how you could easily spend the entire day at the arcade? From bumper cars to lasertag, these kids' games haven't lost their fun. Head to the nearest indoor amusement center and have a blast together.
Laugh Until It Hurts
Go to a stand-up comedy club. If it's a small, intimate venue, you're likely to get picked on by the comedians -- they always seem to love singling out couples. You'll have both hilarious and embarrassing memories to share.
Have a Playful Picnic
It's springtime, and Memorial Day is creeping up on us. Plan a picnic in the park or go strolling along the beach while munching on cotton candy. You can relive your favorite boardwalk memories by returning to the beaches you frequented when you were younger.
Play With The Pooch
Walk the dog together. Playing with pets always calls up memories of childhood.
Go Rock Climbing
Remember the monkey bars? Rekindle your love of climbing by heading to an indoor rock-climbing gym together -- or rough it with some outdoor rock climbing.
Play Ball
Rediscover some favorite childhood team sports, like soccer or kickball, by joining a league together.
Eat Like A Kid
Remember how much you wanted to have a huge ice cream sundae for breakfast or pizza for every meal? Spend a day eating like a kid. Chicken fingers, grilled cheese, cookies -- bring it on.
More Stories On YourTango:
25 Date Night Ideas That Aren't Cheesy
5 Signs That Most Men Are (Secretly) Hopeless Romantics
90 Percent Of Engaged Women Plan Their Weddings At Work
Click through the slideshow below for even more great date ideas.
PHOTO GALLERY
10 Great Dates Ideas For Married Couples
Keep in touch! Check out HuffPost Weddings on Facebook, Twitter and Pinterest.