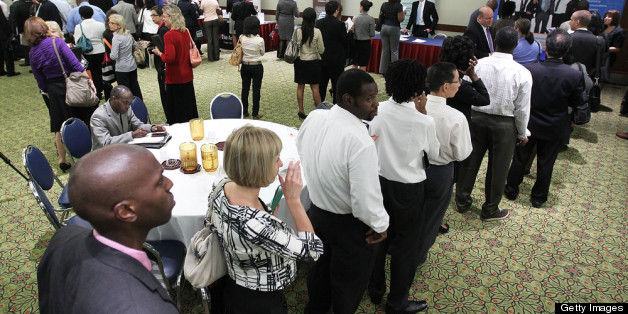 Virginia's unemployment rate fell slightly in April to 5.2 percent -- the lowest it has been in 4 1/2 years.
The jobless rate dropped from the 5.3 percent rate in March and the 5.9 percent rate in April 2012, the Virginia Employment Commission reported Friday.
"It was a small drop, but still moving in the right direction," said Ann Lang, senior economist for the commission.
The April jobless rate was the state's lowest since November 2008, when it stood at 4.9 percent.
The rates have been adjusted for seasonal factors such as temporary employment fluctuations in some industries.
The state's labor force also expanded slightly in April by almost 1,900, after falling in February and March. That, too, was a modest gain, but also a positive sign, Lang said.
Virginia's seasonally adjusted unemployment rate was below the April national rate of 7.5 percent, which was down from 7.6 percent in March.
Virginia was among 40 U.S. states in which the unemployment rate declined in April on solid hiring gains.
The U.S. Department of Labor said Friday that unemployment rates increased in only three states: Louisiana, Tennessee and North Dakota. Rates were unchanged in seven states.
Thirty states, including Virginia, added jobs in April, while 18 reported fewer jobs.
In Virginia, employers added a net total of about 12,100 jobs in April to a total of 3.76 million, after a decline in March of 7,400 jobs.
"It is a good report for Virginia," said Christine Chmura, president and chief economist at Chmura Economics & Analytics, a research firm in Richmond. "Employment growth in April more than made up for the losses in March."
The state's seasonally adjusted nonfarm employment has gradually recovered from a trough of about 3.59 million in February 2010, but it has not yet surpassed the pre-recession peak of 3.78 million jobs in April 2008.
Employers in Virginia added about 36,700 jobs from April 2012 to April 2013, a year-over-year growth rate of 1 percent. That was a slightly better annual growth rate compared with March's rate of 0.7 percent.
"The rate of recovery is still modest, but it is moving forward," Lang said.
Nationally, total nonfarm employment increased by 1.6 percent from April 2012 to April 2013.
In Virginia, most the job gains were recorded by private sector employers, which added 31,800 jobs, while public sector employment rose by 4,900 jobs.
In April, seven major industry sectors in Virginia had job gains, while employment decreased in four sectors. The largest job increase was in professional and business services, which added 4,300 jobs to 681,900 after a decline of 3,200 jobs in March.
The construction sector posted the largest monthly loss, decreasing by 700 jobs to 177,600. But that loss followed job gains in the sector totaling 7,500 the previous three months.
jblackwell@timesdispatch.com
(804) 775-8123 ___
BEFORE YOU GO
PHOTO GALLERY
People Improperly Getting Unemployment Benefits