Japanese artist Yoshitomo Nara is best know for his depictions of adorable -- if not ever so slightly maniacal -- children. These quirky characters have made their way into almost every inch of his sculptures, paintings, and works on paper, baring their cute, round faces and large, devilish eyes in galleries and museums across the world since Nara's early career.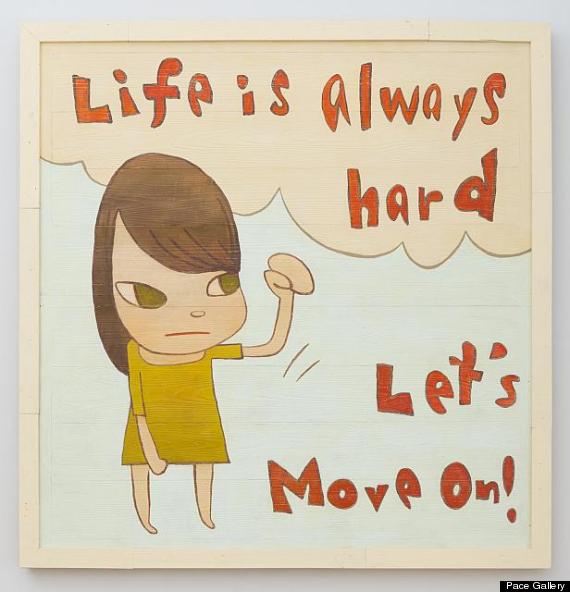 Let's Move On!, 2012, acrylic on wood board, 77" x 74-3/4" x 3-1/2" (195.6 cm x 189.9 cm x 8.9 cm)
His works are so menacingly delightful, in fact, that they've attracted the attention of synth god David Byrne. "On the surface, [Nara's works are] pretty damn cute. But Nara has stepped outside that world in a big way," Byrne wrote in the catalogue essay for Nara's newest exhibition in New York. "The kids and dogs in his pictures and bronzes are defiant, angry, annoyed, and pissed off. They have rebelled against their roots, and their big eyes are cold."
The exhibit, on view now at Pace Gallery, is a solo survey of Nara's unique brand of "Kute Kultre," combining pieces of Western punk culture with the ever-cute details of manga and anime. Unlike the clean lines of Takashi Murakami, however, Nara's chunky bronze sculptures and and jagged sketches leave hints of the labor and effort that went into crafting his naughty cartoons.
Scroll through the slideshow below for a preview of Nara's works. Let us know what you think of his bold imps in the comments.
PHOTO GALLERY
Yoshitomo Nara