Note: Do not read on if you have not yet seen Season 6, Episode 8 of AMC's "Mad Men," titled "The Crash."
This week's extra trippy "Mad Men" saw an intruder not only in Don Draper's apartment (hey, Grandma Ida!), but another in his office.
The mysterious Wendy (Alexa Nikolas) showed up at SDPCGC and with everyone high on speed serum, started doing psychic "readings" with three coins. When she asked Don for a question, she told the very confused and very sweaty ad man that he "can just think of it" without saying it aloud.
Seemingly minutes later -- though time flies when you've had speed serum injected into your gluteus -- Don walked into his office and Wendy was there on his couch. "You want to get it on?" she asked, noting she was there "to make [him] feel better." (You can watch the scene above.)
Though Don rejected her, Peggy (Elisabeth Olson) later saw Cutler (Harry Hamlin) creepily watching Stan (Jay R. Ferguson) and Wendy "get it on." At the end of the episode, viewers minds were blown when they found out that Wendy was Frank Gleason's daughter, who Cutler brought to SDPCGC after Frank's funeral.
If Wendy looked familiar, you're either a fan of the late Jamie Lynn Spears vehicle "Zoey 101" on Nickelodeon or a "Walking Dead" watcher. (Don't worry, we won't tell.)
Nikolas, a 21-year-old Chicago native, got her big break on "Zoey 101" as boy-crazy Nicole, one of Zoey's (Spears) roommates at a posh co-ed boarding school, who left after two seasons when her character came down with Obsessive Male Gender Disorder (OMGD). (Seriously.)
In the years following "Zoey," Nikolas appeared on many other TV shows, including "Judging Amy," "CSI: Miami," "Supernatural" and "Heroes." But in 2011, she made headlines for a different reason. A photo leaked of the actress kissing Disney star Vanessa Hudgens, who had previously dealt with a nude photo scandal.
But Nikolas' reputation didn't suffer: The actress won the recurring role of Woodbury's resident archer Haley on Season 3 of "The Walking Dead" before earning the opportunity to hit on Don on "Mad Men."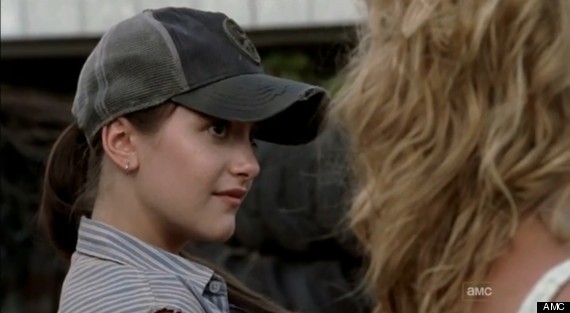 "Mad Men" airs Sundays at 10 p.m. ET on AMC.
PHOTO GALLERY
"Mad Men" Season 6 and 7
BEFORE YOU GO