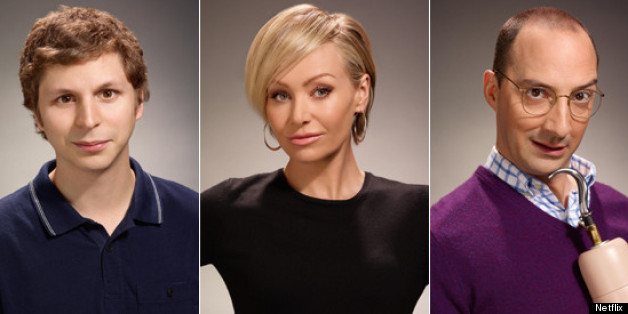 It's been 10 years since the world was first introduced to the dysfunctional Bluth family, but they're more popular than ever. "Arrested Development" lasted for three seasons and 53 episodes on Fox before getting the axe, but the cult-hit found more viewers after its death thanks to word of mouth and Netflix. Now, again thanks to Netflix, "Arrested Development" is back from the dead with 15 new episodes.
Many members of the cast said they never thought this day would come.
"It depends on when you asked me," Porti de Rossi (Lindsay Bluth-Funke) told The Huffington Post in a phone interview. "When we were canceled back in 2006, I would have never imagined that we would do this revival for Netflix or be a part of this kind of business model where they can release all episodes at the same time ... But a part of me knew because the cast loved the show so much and loved working with each other and we just admire and respect Mitch [Hurwitz, creator] so much that I kind of figured that we would all get together again at some point to do something."
Michael Cera (George-Michael Bluth) echoed De Rossi's sentiments. "I thought it was done for good, like most TV shows. It never occurred to me that we'd have this opportunity," Cera said in a phone interview. "I always thought it would be fun to pickup where the story left off because it's such an ongoing story and that figures into that, obviously. Mostly I just wanted to be around these people again."
The entire cast of "Arrested Development" assembled for new episodes -- Cera, De Rossi, Jason Bateman, Will Arnett, Tony Hale, David Cross, Alia Shawkat, Jeffrey Tambor and Jessica Walter -- working around other projects to make the revival happen.
"It was very exciting. It was very surreal ... It was one of those things where you couldn't believe it was happening," Tony Hale (Buster Bluth) said via phone. "Honestly, I think all of us didn't really believe it until we got on set that first day, the first day everyone was together ... It was strange being back on the set again. They had recreated the whole penthouse to look exactly how it was. Being Buster again, hearing the degrading voice of Lucille just brought back so many [memories] ... There are a lot of expectations placed on the show since it stopped airing and getting back into it, you're worried about matching it. Hearing Jessica Walter's voice, just kind of the way she says 'Buster!' -- just that patronizing, abusive tone that she has -- it was so funny and just clicked right in. It was like riding a bike again. It's really, really going to be fun."
Cera said the fictional family reunion was "incredible." "It's one thing to see people every now and then all apart, but to actually be getting to work with these people under the same -- more or less -- circumstances ... I never thought I could even hope for it," he said.
The new season picks up years after viewers last saw the Bluth family and each individual character has his or her own episode recapping what's happened in their lives since we last saw them.
"Yeah, I mean it was surreal," de Rossi said. "It was kind of unbelievable. For me, it felt like hardly any time had passed and then I'd look at Michael Cera and he's a man now and I'd be like, 'Oh, God. It's been a long time since I've been here, but it just felt like yesterday.' It was a very, very surreal moment that not many actors get to experience unless you do a sequel to a movie, I guess it would be similar to that."
De Rossi said she approached playing Lindsay differently this time around because the time away from the series changed her attitude toward the character. "I think I had a little bit more sympathy for her than I did back then." I kind of saw her as someone who was struggling this time around rather than somebody who was just completely self-confident, self-involved and kind of a twit who didn't care. I think maybe it might be a tiny bit of a more mature approach to the same kind of person. Maybe, I don't know," she said with a laugh.
This season, look for Lindsay Bluth-Funke to actually try and change for the better. "In my scripts, I kind of go on a little bit of a journey. I think my character kind of, at least tries to evolve, grow and learn and figure out who she is and what she wants out of life," she said. "She may not actually come up with the answers, but she does attempt to figure all of that out ... as opposed to the original series, it was a little bit of a different direction for her."
Part of that journey somehow includes an ostrich and De Rossi said she doesn't recommend the giant birds as scene partners."I would take young children or cats, actually, over an ostrich because they're kind of scary. We were in some very tight situations together and just the way they look at you and the beak and the claws ... Yeah, I don't recommend it," she said.
What else can fans expect? Lots more incest. "I mean, it gets really, really strange this season," Cera said. "The incest is just going out in all directions at this point ... it's no longer on a leash." There will be a few returning jokes, but Cera said Hurwitz made a big effort not to use previous shows as a crutch for jokes."I mean, he's a guy that's so uneasily impressed, so I much preferred watching him come up with all the new stuff, that to me is endlessly quotable," he said.
De Rossi said the way the new episodes are written, it's worth watching the season more than once. "You're going to miss jokes like you wouldn't believe because you're just focused on the action or you're kind of not looking for a joke because it hasn't been set up yet," she said. "My only advice would be to go back and watch the episodes again, just so you get the full experience of it. It's not like you're not going to know what's going on -- it's very clear, it's very easy to follow -- but your experience is going to be so much richer if you watch the episodes more than once."
There's been a lot of secrecy surrounding the return of "Arrested Development," but the cast stressed that fans won't be disappointed. Hale said he's looking forward to watching to get the full experience. "The truth of it is, I would read the script and I would have no clue what was going on. That is such a testament to the faith that we have in Mitch Hurwitz," Hale said. "We just know that he'll hand you stuff to do and you'll do it, knowing he has the whole puzzle worked out in his head. I'm looking forward to May 26 to see how it all works out. I have no clue. I'm waiting for the surprises myself because it's such an intricate comic matrix he has going. I can't wait to see how it all plays out because I have no clue."
"Arrested Development" returns with new episodes on Netflix on May 26.
PHOTO GALLERY
Arrested Development Photos
BEFORE YOU GO