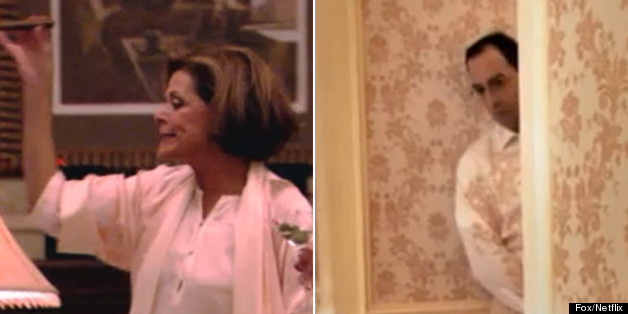 Ask any "Arrested Development" fan for their favorite moment and chances are they'll come up with the scene or joke in a matter of seconds. However, it's a little harder for the cast, who spent three years living and breathing the show, to pick just one.
Will Arnett, GOB Bluth to "Arrested" fans, said he had the most fun doing the Season 2 episode "Afternoon Delight," which was directed by series star Jason Bateman. "[We] ended up telling half of a joke of GOB saying, 'Are you f---ing kidding me? Come on!' But we told the second part first," Arnett told The Huffington Post. "You pick up the scene of me saying '-king me? Come on!' And later in the show you see me go up to the, 'Are you f-' It's almost like they split up that scene and told it in reverse.
"That was super fun and Jason directed. And you know, he's a monster," Arnett joked.
Portia de Rossi, Lindsay Bluth Funke on "Arrested Development," told The Huffington Post that she didn't have a favorite episode, but there is a particular gag that comes to mind. "It was the entire episode where you were overhearing extremely intimate conversations and then it would pan out and you'd see they were in the boardroom with like 20 people just waiting for them to stop talking," the actress said in a phone interview. "The episode in the jail where they're talking about Buster and how horrible and terrible he is and he's sitting right there when the camera pans out. It's just silly things like that that are just so funny."
De Rossi has a soft spot for one particular character. "I just love Lucille. I just love that character so much," she said. "I mean, Lucille is just my favorite and some of my favorite lines are things that she said. She's just so fantastic."
Lucille Bluth, the matriarch of "Arrested Development," is played by Jessica Walter. She's known for not liking all of her children, boozing it up early in the morning and loving a certain private eye who has a tendency to show up in disguise. Walter told The Huffington Post that one of her favorite character moments was when Lucille got a facelift. "When I came out of makeup, I scared myself," she said in a phone interview. "It was so brilliantly done, the makeup."
In a Season 1 episode of "Arrested Development," Lucille Bluth found herself home alone without her son, Buster. "Oh gosh, I had so many wonderful scenes, it's hard to pinpoint. Another one was when Buster leaves her, and she's at home, drinking and eating cake, lying on the table, listening to music from 'Gypsy,'" she said.
Tony Hale, Buster Bluth who has an unusually close relationship with his mother, said one of his favorite moments came from the Season 1 episode "Public Relations."
"They said Buster was neither seen nor heard growing up," Hale told The Huffington Post via phone with a laugh. "And I loved that he was wearing a shirt that perfectly matched the wallpaper. He took it as far as his wardrobe. He was like, 'You're not even going to see my body. I'll be standing in front of you and you still won't see me.' He was very, very faithful to the title he was given of 'neither seen nor heard.' It was just a testament to how everybody on the show was on the same page. That was all wardrobe. Obviously the writers came up with it, but it was just kind of fun riding that wave. Just stuff like that was really hilarious and fun."
"Arrested Development" returns with new episodes on Netflix starting May 26.
PHOTO GALLERY
Arrested Development Photos
BEFORE YOU GO