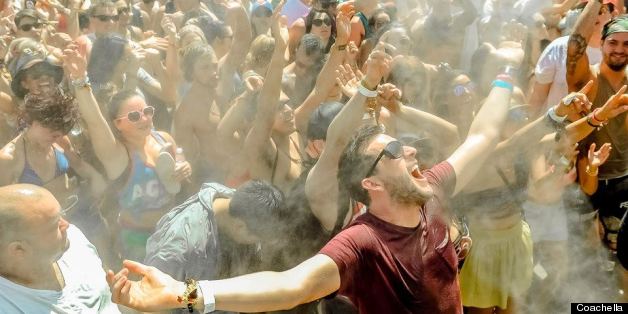 Coachella just ended but it's time already to fight internet enemies for 2014 tickets.
That's right. Tickets for next year's fest are set to go on sale Friday. While it might seem too early to even start thinking about your next Coachella hangover, the advance sale is your only chance to take advantage of the payment plan. Die-hards and frugalistas alike flock to this option because it's much more budget-conscious than dropping $400-plus in January.
This is how the payment plan works: 20 percent down payment in May 2013 ($69.80) and then a charge of about $45 a month from July through September. Easy peasy.
Ticket sale: Friday, May 24 at 10:00 a.m. PST at Coachella.com
Coachella dates: Weekend 1 April 11–13, 2014 / Weekend 2 April 18–20, 2014.
As a quick refresher, tickets for Weekend 1 typically sell out very quickly, while Weekend 2 tickets are a little more readily available. Slackers take to Facebook and Craigslist as the fest nears to both buy and sell tickets every year. So if you aren't ready to make this kind of a commitment eleven months ahead of time (especially before the lineup is even released), we can't say we blame you. We have barely recovered from last months' musical dust storm.
If you're the type who likes to plan ahead for Coachella, start thinking about your desert wardrobe too! Get inspired by 2013's best looks.
PHOTO GALLERY
Best Coachella Style 2013