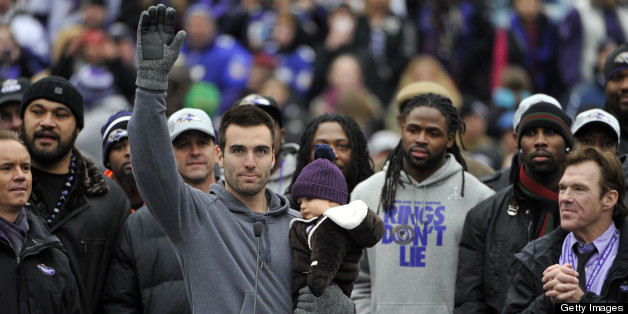 After facing criticism in January for using the word "retarded" during a pre-Super Bowl interview, Baltimore Ravens quarterback Joe Flacco took the so-called "r-word" pledge, vowing to never use the derogatory term again.
Flacco signed the pledge along with two of his teammates, Gino Gradkowski and Ed Dickson, at a recent event for Special Olympics Maryland.
@teamflacco, @ginograd56, @eddickson84 of the @ravens sign the @r_word_campaign pledge to eliminate use of r-word twitter.com/SpOlympicsMD/s…

— Special Olympics MD (@SpOlympicsMD) May 19, 2013
The Special Olympics' campaign to end the use of "retard" or "retarded" -- which are often used to mean "stupid" in everyday speech -- is its fourth year. The "Spread the Word to End the Word" movement has gained more than 400,000 signatures on its online petition. The Special Olympics seeks to stop people from using the term "as a starting point toward creating more accepting attitudes and communities for all people."
Flacco made the mistake of using the r-word during a Q&A before the 2013 Super Bowl, from which the Ravens emerged victorious.
"Yeah, I think it's retarded," the starting quarterback said in response to a question about the Super Bowl being held at stadiums with cold weather, according to The Denver Post. "I probably shouldn't say that. I think it's stupid."
Though Flacco apologized the next day for his "bad choice of words," the damage from his off-hand comment was already done. Nevertheless, Special Olympics Maryland stood behind Flacco after the incident.
"We're glad to see he took it back immediately and recognized that he kind of made a slip," spokeswoman Linda Ellingsworth told The Baltimore Sun at the time. "We're still supportive of him and look forward to working with him in the future."
BEFORE YOU GO
PHOTO GALLERY
Racist Remarks Made By Politicians