A Miami man has captured, killed, and reported the largest Burmese python ever caught in Florida, according to Florida Fish and Wildlife Conservation Commission officials.
Jason Leon was driving in a rural section of southwest Miami-Dade on May 11 when he and his passengers spotted a large snake in the road.
Leon pulled over to investigate the reptile, then only sticking out three feet from a bush. As he began to drag the animal out from the foliage, the Burmese python began to wrap itself around Leon's leg.
His friends inside the car then jumped out and used a knife to kill the python, which turned out to be a18-foot, 8-inch female, as later identified by University of Florida experts.
(Story continues after photo.)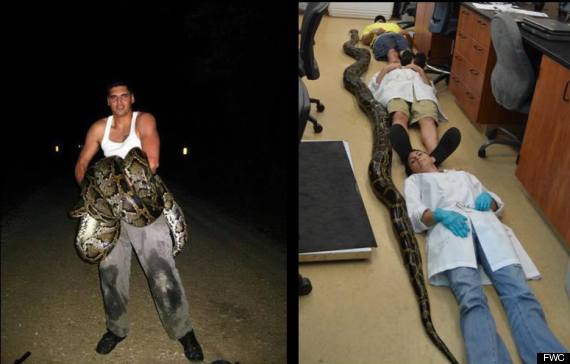 FWC officials says that Leon, whom Local 10 identified as living in Hialeah, once owned a Burmese python himself and knew how to handle the 128-pound snake, which is an invasive species credited with hurting the Everglades ecosystem and its native wildlife.
Leon's snake is a whole foot longer than the previous record-holding snake of 17-feet, 7-inches, captured last August in the Everglades.
"The FWC is grateful to him both for safely removing such a large Burmese python and for reporting its capture," said Kristen Sommers, FWC's Exotic Species Coordination Section Leader.
"This event highlights how the Exotic Species hotline allows the public to help us obtain more information about Burmese pythons, so we can improve management of this invasive species. It also reflects the cooperative efforts of the FWC and its partners to address python sightings by the public."
To report sightings of exotic species, visit IveGot1.org or call 888-IveGot1. There is also a free smartphone app: IVEGOT1.
Take a look at some of Florida's other, potentially harmful alien critters:
BEFORE YOU GO