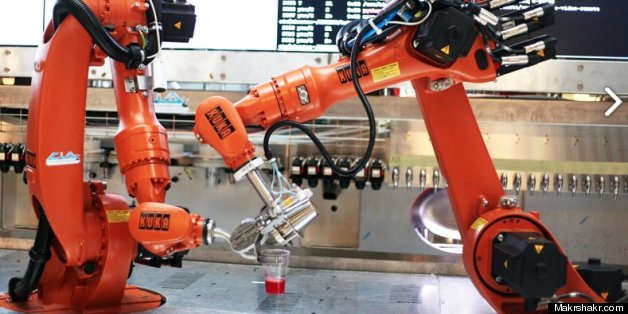 Human chefs, waiters and bartenders, watch your backs -- one day you may be competing for work with food service robots. The lastest threat: A bartending robot that shakes, mixes and serves drinks. No tipping necessary.
The Makr Shakr, invented by M.I.T.'s Senseable City Lab, weighs up to 13,228 pounds and is controlled by an app that can be used to design a template for a user's desired drink. Thanks to a partnership with Bacardi and Coca-Cola, drinks by Makr Shakr can be made with about two dozen spirits and liqueurs, more than a hundred non-alcoholic mixers and add-on ingredients like mint, lemon slices and a salt and pepper mix.
The machine joins the ranks of other crazy food service robots, some of which HuffPost Tech thinks could help make a party incredibly awesome.
But Makr Shakr's inventors say they're not trying to replace flesh-and-blood bartenders. "Instead of trying to replace a bartender with a robot, Makr Shakr aims to be a social experiment that looks at how people might embrace the new possibilities offered by digital manufacturing," the company says on the machine's website.
Gizmodo has an in-depth explanation of how the machine works, and you can check it out in action below.
BEFORE YOU GO
PHOTO GALLERY
Food Robots Around The World