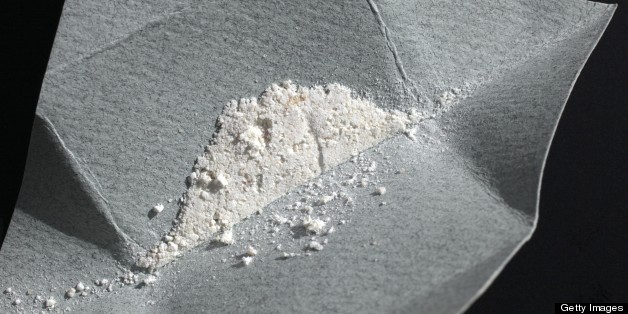 By Bryan Graham
NEW YORK CITY -- Three men were indicted on drug trafficking charges after police seized nearly 20 pounds of heroin and crystal meth worth more than $2 million, prosecutors announced Monday.
The New York State Police nabbed the men in red-handed with a hefty 6.6 pound bag of heroin at the intersection of East 212th Street and Dekalb Avenue in The Bronx on April 9, after trailing the trio from the alleged stash house at 24-24 96th St. in Queens, according to court papers.
One of the suspects, Miguel Mercado-Guelen, 33, who lives at the two-level apartment in Corona, was due to be arraigned Monday in Manhattan on conspiracy and drug possession charges.
Mercado-Guelen, who according to prosecutors was deported in 2003 and illegally returned to the United States, also faces charges for drug paraphernalia and weapons possession. He sometimes goes by the name Tony Perez, prosecutors said.
The other suspects are Diego Estevez, who was arraigned on May 1 with bail set at $500,000, and Henry Nunez, who was arraigned on May 6 with bail set at $200,000, prosecutors said. Estevez, a Brooklyn resident, and Estevez, a Danbury, Conn. resident, were charged with conspiracy and criminal possession of a controlled substance.
A search of the alleged stash house yielded more than 3 pounds of "black tar" heroin, nearly 9 pounds of methamphetamine, a 9-millimeter handgun and a loaded magazine clip, authorities said.
Also recovered was a ledger of crystal meth transactions, $2,000 hidden inside a vent and supplies for packaging narcotics, including masks, grinders, a kilo-press and a scale, prosecutors said.
The meth, which was in smokable form, was believed to have originated from Mexico and carries a street value of about $960,000, according to Bridget Brennan, the city's special narcotics prosecutor.
"This seizure is typical of a pattern that we've seen developing in our narcotics investigations across the city," Brennan said.
According to the city's Department of Health, emergency room visits related to meth more than doubled between 2004 and 2011, climbing from 214 to 576.
BEFORE YOU GO