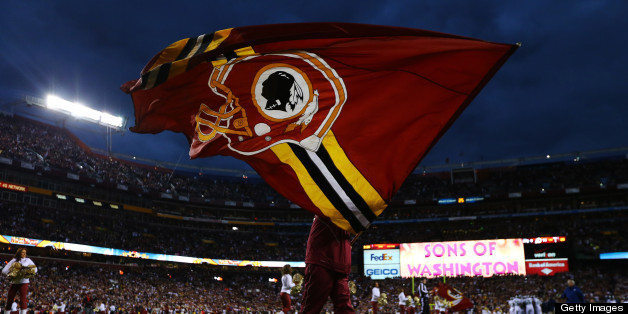 George Washington University law professor John Banzhaf is calling on the D.C. Council to pass a resolution asking local television broadcasters to stop using the name "Redskins" on the air.
"Using broadcast law...is long overdue in terms of fighting the word 'Redskins'," Banzhaf recently told The Huffington Post.
Banzhaf gave his reasoning in a press release (in which, we note, he refers to himself in the third person):
Such a resolution by the Council could be crucial, since federal law requires a broadcast licensee to both ascertain and then respond to community needs and problems in its programming in order to have its license renewed. Who better represents the public and its needs than the D.C. City Council, especially since the Metropolitan Washington Council of Governments, which represents 17 local governments, has already adopted its own anti-redskins resolution calling the team name "demeaning and dehumanizing," and asking Snyder to change it, suggests public interest law professor John Banzhaf.

The strategy of using broadcasting law as a weapon against "REDSKINS" is based upon an FCC proceeding Banzhaf brought in the late 1960s which forced TV stations to begin featuring African Americans as reporters and in other significant on-air roles, another in which a TV station lost its license over allegations of racist programming, recent FCC crackdowns on indecent and profane programming, and the recent firing of broadcast commentators who used racist terms such as "nappy" or "chink in the armor," even fleetingly.
Banzhaf told The Huffington Post he believes the airwaves ban should be tacked onto a nonbinding resolution Councilmember David Grosso (I-At Large) introduced in April, a calling for a team name change. (Grosso also sent a letter to Snyder asking him to consider changing the name of the team in early May.)
Former Federal Communications Commission officials have also jumped into the Redskins name change debate. In early April, former FCC chairman Reed Hundt, along with other former FCC employees, sent a letter asking Redskins owner Dan Snyder to change the team's name.
Snyder told USA Today in early May that the team would "never" change its name. And an Associated Press-GfK poll released May 2 shows 79 percent of Americans favoring the team keeping its name.
For those who do not believe the team name is problematic, Banzhaf, in his press release, proposes something of an eyebrows-raising challenge: "walk into a bar frequented by Indians and loudly ask: 'How are all you redskins doing tonight'."
BEFORE YOU GO
PHOTO GALLERY
Best 2013 Sports Photos