Does this double serpent-tailed siren look familiar?
If you are a coffee drinker, visions of a green mermaid-esque logo affixed to a white paper cup are probably forming in your mind. That's because this 16th century Italian bronze statue -- photographed by Reddit user jmay69 at the Metropolitan Museum of Art in New York City -- arguably resembles the Starbucks logo.
According to Starbucks, the design is based on "a 16th century Norse woodcut of a twin-tailed mermaid, or Siren."
Terry Heckler, the artist who created the Starbucks mermaid, told The Seattle Times: "It's a metaphor for the allure of caffeine, the sirens who drew sailors into the rocks."
Read more about Heckler's original, naughty version of the Starbucks logo here and let us know how you think the above statue compares to the coffee company's retro yet controversial design below.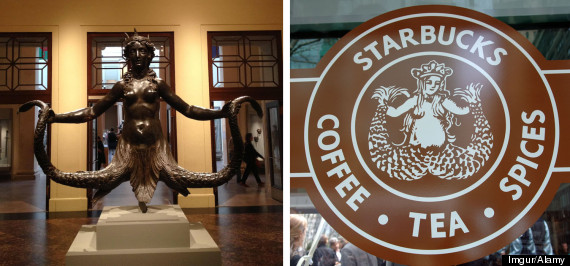 A side-by-side comparison.
And look -- more mermaids at the Met! We're beginning to think this "Nordic" design is pretty common...
CLICK:
BEFORE YOU GO