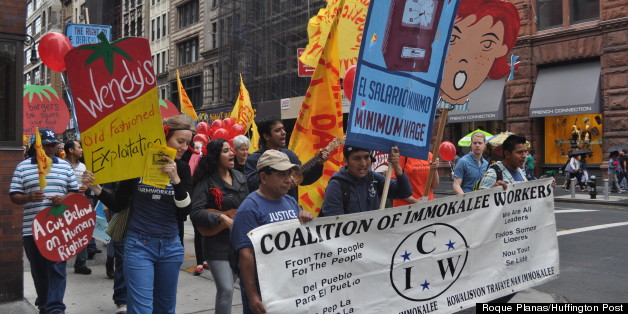 NEW YORK -- Dozens of protesters gathered in New York City's Union Square on Saturday to demand that the fast-food giant Wendy's sign on to an agreement to support agricultural labor rights.
Armed with red ballons reading "old-fashioned exploitation" and waving images of the burger chain's pigtailed redhead, the protesters marched toward two nearby Wendy's locations, where they chanted slogans like "Sí se puede" and "Hey Wendy's, shame on you, farmworkers deserve rights too" to the beat of a blaring brass band.
(Article continues below video)
Companies that sign on to the Fair Food Program, presented by the Coalition of Immokalee Farmworkers, will pay one cent more per pound of tomatoes picked, boosting the wages of farm laborers. The agreement also requires companies to buy tomatoes only from producers that abide by a voluntary code of conduct outlining improved labor standards and providing for an independent council to investigate alleged violations.
"For us, it means better conditions," farmworker Oscar Otzoy, 29, told HuffPost in Spanish on Saturday. "It means having the ability to report abuses like unpaid wages or sexual abuse. Slavery continues to exist in the fields because companies like Wendy's, for example, haven't joined this agreement."
A Wendy's representative present at the protest declined to comment and referred HuffPost to the company's corporate office. That office did not immediately respond to requests for comment.
The Justice Department has prosecuted at least seven cases of slavery involving more than 1,000 workers in the Florida agricultural industry since 1997, according to the Washington Post. There also is a high risk of abuse for female farmworkers, ranging from rape to harassment and unwanted touching, according to a Human Rights Watch report released last year.
Several of the top players in the fast-food industry participate in the Fair Food Program. Taco Bell signed on in 2005, followed by McDonald's, Burger King, Subway and others.
But Wendy's has declined so far to take part.
Saturday's protest was timed to coincide roughly with the company's annual shareholders meeting, scheduled for May 23 at the Sofitel Hotel in midtown Manhattan.
The CIW's success in pushing the Fair Food Program is due in part to the close relationships it has cultivated with youth activists and college students -- an initiative known as the Student-Farmworker Alliance.
Tomas Quiñones Rodriguez, a student at Brown University, said his personal background led him to get involved with the farmworkers' cause. In addition to joining the protest in Manhattan, Quiñones has traveled to Florida for a march demanding grocery chain Publix join the Fair Food Program.
A 19-year-old California native whose family emigrated from Durango, Mexico, Quiñones said he grew up hearing stories about iconic labor organizer Cesar Chavez and the United Farm Workers union.
"I've always been wrestling with that question 'what can I possibly do?'" Quiñones told The Huffington Post. "For me, this was an answer."
Saturday's protest comes just days after Wendy's launched a Spanish-language ad campaign with the tagline "mucho mejor," or "much better." The first television commercial of the series, which features the fictional "Rojos" family, aired on May 13, according to Ad Age.
BEFORE YOU GO
PHOTO GALLERY
Latinos Standing Up For Their Rights