Brad Pitt may be ... well, Brad Pitt ... but that doesn't mean his life isn't complicated.
In the new issue of Esquire magazine, the 49-year-old actor admits he's a little bit of a loner and has some trouble when it comes to forming friendships.
"I have very few friends," he tells Esquire. "I have a handful of close friends and I have my family and I haven't known life to be any happier. I'm making things. I just haven't known life to be any happier."
In actuality Pitt, who has six children -- Maddox, Pax, Zahara, Shiloh, Knox and Vivienne -- with his fiancee Angelina Jolie, 37, always wanted a big brood to fill that empty space.
"I always thought that if I wanted to do a family, I wanted to do it big. I wanted there to be chaos in the house," Pitt shares, adding, "there's constant chatter in our house, whether it's giggling or screaming or crying or banging. I love it. I love it. I love it."
"I hate it when they're gone," he continues. "I hate it. Maybe it's nice to be in a hotel room for a day –- 'Oh, nice, I can finally read a paper.' But then, by the next day, I miss that cacophony, all that life."
Before all the "chaos," Pitt was married to Jennifer Aniston -- they divorced in 2005 after he met Jolie on the set of "Mr. and Mrs. Smith" -- and has admitted in the past that he was his own worst enemy. Not only did he dabble in drugs, but he let his dreams and goals drift away from him. Pitt even confesses that he was just one paper away from earning his college degree.
"I'd get so far and then want to do something else. I mean, I'm two credits short of graduating college. Two credits. All I had to do was write a paper. What kind of guy is that?" he asks. "That guy scares me –- the guy who always leaves a little on his plate."
"For a long time I thought I did too much damage -– drug damage. I was a bit of a drifter. A guy who felt he grew up in something of a vacuum and wanted to see things, wanted to be inspired. I followed that other thing," Pitt adds to Esquire. "I spent years f**king off. But then I got burnt out and felt that I was wasting my opportunity. It was a conscious change. This was about a decade ago. It was an epiphany -– a decision not to squander my opportunities. It was a feeling of get up. Because otherwise, what's the point?"
Read more in the June/July issue of Esquire magazine, on newsstands May 28.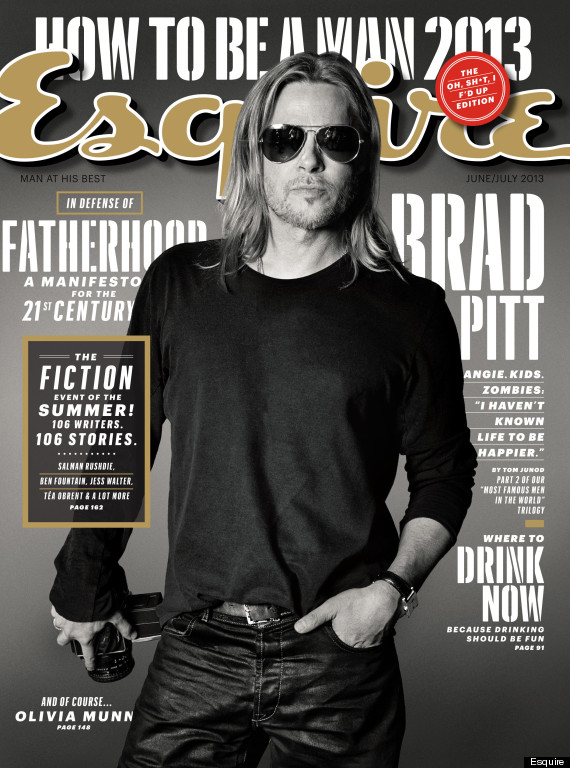 BEFORE YOU GO