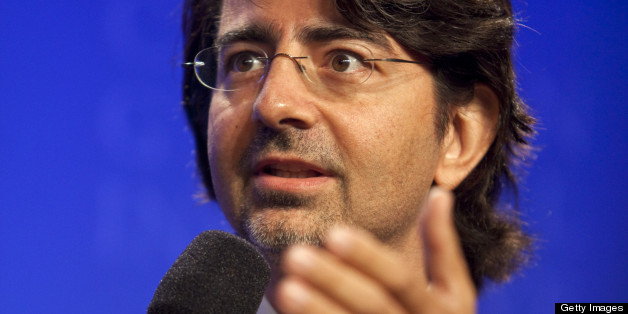 WASHINGTON -- Petition platform Change.org got a $15 million cash infusion last week from The Omidyar Network, an investment firm connected to eBay founder Pierre Omidyar, according to an email CEO Ben Rattray sent to staff Monday.
"What's unique about this investment is that it doesn't come with any control over the company," Rattray said in the email. In October, HuffPost reported that Rattray had been meeting with venture capitalists, including Google Ventures, Bridges Ventures and Acumen Fund, among others. At the time, Change spokesman Benjamin Joffe-Walt said that the company would sell only to a "mission-aligned investor."
"The Omidyar Network is investing because they share our mission; we will retain control of our governance, and have made it clear that we plan to remain an independent, mission-driven social venture indefinitely, and never to sell the company or take it public," Rattray wrote.
"We should all be proud of the pioneering role we're playing in social entrepreneurship. We're showing it is possible to build a successful company focused on a social mission, and if we achieve what I know is possible, part of our legacy will be to inspire thousands more entrepreneurs to start mission-driven companies that can help change the world, and to set the standard for how they can structure themselves for maximum impact."
Joffe-Walt said that other investors demanded more control over the company, which operates in a structure that requires it to shovel profits back into the company rather than as dividends for shareholders. The Omidyar money, he said, would be used to dramatically build the engineering team to support global expansion.
Change came under fire last fall for new advertising guidelines that dropped any progressive or liberal litmus test, and opened the platform to all political and corporate organizations, with the exception of hate groups.
MoveOn.org, meanwhile, is battling for the progressive petition space, moving its own platform into the center of its political operation. The group is renaming its tool SignOn.org to MoveOn Petitions. "We're baking petitions into everything we're doing," MoveOn's relatively new head Anna Galland told HuffPost.
Change.org, despite its Web address and socially conscious structure, is a for-profit company that makes money from users' email addresses. MoveOn, meanwhile, is member funded. Its representatives said they hope its nonprofit status will earn the trust of its base.
Sen. Jeff Merkley's (D-Ore.) effort to repeal the Monsanto Protection Act and Elizabeth Warren's (D-Mass.) bill to lower student loan rates have both used MoveOn's software. Galland said that her tenure has shown that folks who thought MoveOn was exiting the national stage were too pessimistic. "That's pretty clearly not true, if you look at the track record the last five months," she said.
BEFORE YOU GO
PHOTO GALLERY
Most Iconic Photos Of Obama's First Term