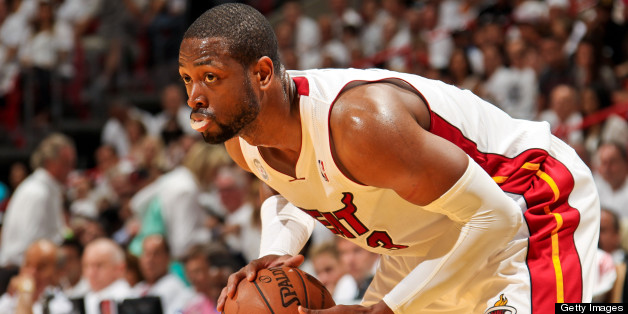 LeBron James might be the exception to the rule, but if heroes are generally as good as their sidekicks -- think Batman and Robin, Han Solo and Chewbacca, and at times, even Jordan and Pippen -- then the Miami Heat is in trouble. Dwyane Wade, the mercurial and often highly vulnerable superstar, is once again a question mark because of a significant right knee problem after bruising it for at least the third time since an initial injury on March 6. And, while we've learned that doubting Wade in the playoffs is simply not a smart thing to do, his attacking presence in Erik Spoelstra's lineup is simply too important to discount moving forward.
Of course, it's easy to assume that James can shoulder the additional workload and be even more aggressive if his sidekick isn't 100 percent. That may be true at times, but Wade's sensational pick-and-roll ability -- he ranked in the 86th percentile in the NBA per Synergy Sports this season -- as well as isolation gifts, provides the Heat with its only other true one-on-one player. After the most efficient shooting season of his 10-year career, Wade is averaging a mere 13 points per game on just 45 percent shooting in the postseason. More importantly though, he is attempting just three free throws -- fewer than half of his regular season output and a true barometer of his lackluster explosion. When HuffPost interviewed him in April, he mentioned health as the key to Miami's sustained success. Perhaps he wasn't directly referring to himself, but he may as well have been.
Even at his zenith -- think 2008-09 when he averaged 30-plus -- Wade, a nine-time All-Star, has never been a knockdown shooter. Instead, he is a rhythm scorer who uses the threat of the drive to gain ample space to pull up in the half-court, where he can be lethal. But all of that is predicated off of getting to the rim.
The 31-year-old, who has played in eight of the nine Heat playoff games, has a WARP (Wins Above Replacement Player) that ranks just 29th in the playoffs, per ESPN Insider. That number is below reserves Ray Allen and Chris Andersen. Against Indiana in the Eastern Conference finals, things are not going to get any easier, either. The Pacers ranked first in the league this season in opponent field goal percentage and second in points allowed, thanks in large part to a highly physical mindset coupled with an elite rim protector in Roy Hibbert (allows under 40 percent shooting at the rim per ESPN), and two ace wing defenders in Paul George and Lance Stephenson. Like Chicago, Indiana will grind you in the half-court and funnel everything away from the basket.
If Wade cannot find room in the lane, the Heat offense becomes that much more predictable and, even with James, considerably easier to defend. That may turn out to be immaterial because Wade has a tendency to elevate his game when it matters the most -- but Indiana is good enough and hungry enough to put Miami to the test.
Email me at jordan.schultz@huffingtonpost.com or ask me questions about anything sports-related at @Schultz_Report.
BEFORE YOU GO