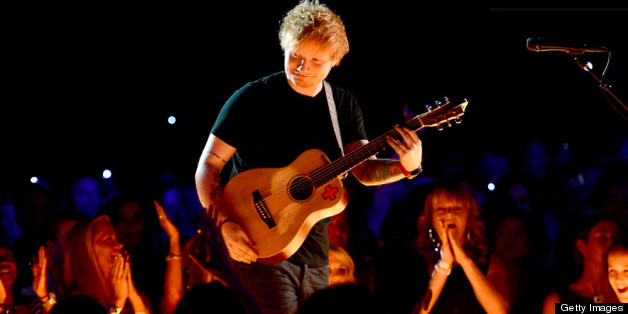 On the scale of "pop stars teens like that their parents have heard of," Ed Sheeran probably ranks somewhere in between Justin Bieber and Austin Mahone. And the 22-year-old's powerful but honey-coated voice and softhearted lyrics aren't all that dissimilar from theirs, either.
But unlike Bieber, Cody Simpson, Mahone, and too many other young singers to count, Sheeran didn't take the YouTube route to fame. The British singer did it the "old-fashioned way" -- performing his own, original music in real-life venues.
In 2009, Sheeran played 312 gigs, inspired by James Morrison's record of 200 gigs in a year. The next year, he bought a ticket to L.A. and was lucky enough to be discovered by Jamie Foxx playing the open-mic circuit. After he self-recorded two EPs, the Internet buzz around him finally mobilized, and in 2012, Britain fell in love with the singer-songwriter.
This year, America caught up. Sheeran performed a duet of his song "A Team" with Elton John at the 2013 Grammy's and the track was up for "Song Of The Year." Also worth noting is his not-so-small social media army of teenage followers, many of whom he shares with his boy band friends, One Direction.
But when I chatted with Sheeran in NYC earlier this month, he insisted that his personal life has been left mostly untouched by rabid fans and celebrity gossip. This could mean that he is the Adele to Justin Bieber's Taylor Swift, having successfully captured a media narrative which presents him as a step above his peers in maturity and talent. Or maybe he is just still too new to American audiences.
Either way, if it is true that fame has left him pure-of-heart, it's a big feat. After all, this past weekend he performed at the Billboard Music Awards and was seated in the front row next to Selena Gomez, despite tweeting that he didn't fit in at the event. Perhaps that's the key to Sheeran's likeability: he may be sitting at the "cool kids' table," but he still doesn't seem to realize how popular he really is.
Here's what the singer had to say about his new album, his next tattoo and what you do after your dreams come true.
You've said in a few interviews that you've really prepared yourself for this moment. What about fame has really surprised you?
Sheeran: Nothing, it's everything that people said it would be. Everything. The good parts and the bad parts.
What'd they say it would be?
They said your friends would not just [decrease by] half -- [they would] halve, halve, halve, and then halve again. You'd [also] live out every single dream you have for yourself in a matter of months and have to make new dreams for yourself, which has happened.
Do you have new dreams?
Oh, every single new dream I make for myself is achieved within a month anyway, so I keep having to make new dreams.
What's it this month?
I guess playing a stadium, and I'm doing that Saturday.
Cool. Where?
Detroit. That might be my next tattoo. I might get, "D."
You're described as a "new artist," kind of like fun., even though you've been around forever. Does that bother you?
No, I think I am a new artist to the music industry as a whole. It doesn't bother me, I might even be considered a new artist on the second album.
A lot of your peers -- Taylor Swift and One Direction of course come to mind -- are scrutinized in the tabloids for their personal lives. Is that something you're conscious of?
I genuinely, genuinely don't think anyone gives a s*** about my personal life. People only really started giving a s*** when they thought I was dating Taylor.
HuffPost Teen readers probably beg to differ.
I don't do anything interesting, and all the controversial stuff that One Direction might get written about [because of], I write about in my songs anyway. I think people kind of expect it from me, so they're not too shocked. If I write a song called, "Drunk," and then I'm seen walking out of a club drunk, people aren't going to be like "Oh my God!" They're going be like, "Oh yeah, that's what [he's] expected to do, I guess." But if you sing about going "crazy, crazy, crazy" and then fall out of a club...
Did you have a particular audience in mind when you were writing this new album?
No. I think the moment you start trying to please a fan base is when you start going downhill. I'm going to always, always write about what I want even if it doesn't necessarily cater to most of them.
Yeah, at HuffPost Teen we work with a lot of smart teenage girls and it bothers me when people treat them like their presence in a fan base is like this black mark you have to overcome.
There are just certain things you shouldn't feel worried about. I remember putting "Drunk" on the album and people being like, "you have a young base therefore if you do a song called, 'Drunk,' their parents might be annoyed." I was drinking at 13. Like, that's kind of normal.
Your last album seemed to focus on one specific girl, and there was a lot about love. Any new themes in this new album that fans can look forward to?
Well, it's not about that specific girl. It's not about that girl anymore, no more about her. So that's positive.
She seemed cool, though. You said so many wonderful things about her.
Yeah, yeah she's cool. I've written more songs about more things.
That's specific. Anything else about it that you can tell us?
I was looking for it to be done in December and I went through it yesterday. It's pretty much done. Which is quite exciting.
How long did it take you?
A couple of weeks.
To write the whole album?
Yeah.
Really?
I mean there are some songs I've had for a while, but to finish it, yes.
Are you going to be doing any rapping?
I am actually, I am. Not, like, gangsta rapping.
No? That's disappointing.
I'm not doing all of that.
A popular quote [wrongfully] attributed to you is, "I can't tell you the key to success but the key to failure is to try and please everyone."
I said once in an interview, "there's a very good Bill Cosby quote which is..." and [fans] just cut out the Bill Cosby part.
What does that quote mean to you?
It just means do your own thing and don't try and please people for the sake of it. Do it because you enjoy it. There is no key to success.
BEFORE YOU GO
PHOTO GALLERY
Ed Sheeran Photos