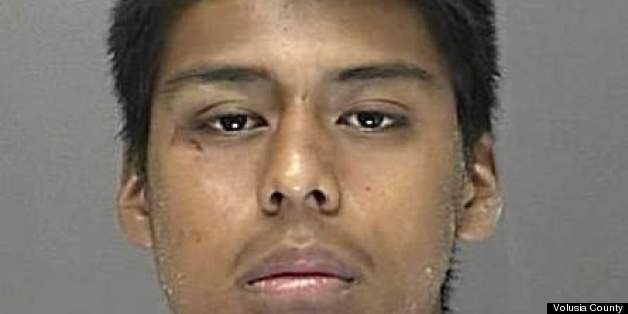 A Florida 18-year-old took his infatuation with a classmate too far when he allegedly broke into her home to "have sex with her," according to the Volusia County sheriff's office.
Police say that Eduardo Rodriguez attempted to force his way into the teenage girl's house in Pierson around 1:20 a.m., Monday.
"I woke up, and I felt something," the victim told a 911 dispatcher. "I felt him looking at me. I woke up, and he was right there."
The victim recognized Rodriguez, masked in a bandana, when she pulled the cloth from his face.
"The suspect lifted up the girl's blanket and touched her, and that's when the victim grabbed his arm while calling for her mother," according to the sheriff's statement.
Approximately one hour later, authorities found Rodriguez running along nearby railroad tracks, shirtless, shoeless, and smelling of alcohol, WFTV reports. Rodriguez told deputies that he was confused and thought he was entering his own house.
The girl told her mother that Rodriguez is obsessed with her, but that she wants nothing to do with him, according to the Daytona Beach News-Journal.
Rodriguez is facing charges of sexual battery, child abuse and burglary involving an assault and battery.
BEFORE YOU GO
PHOTO GALLERY
Rejected Romeos