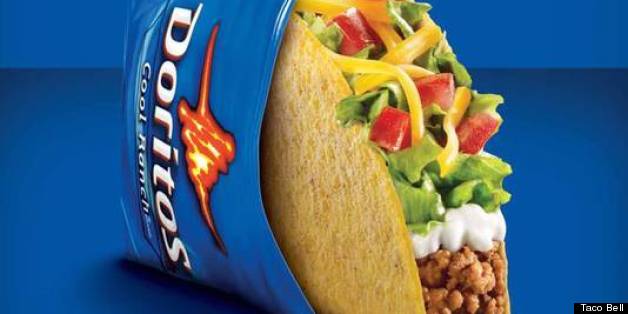 It's been known that more Doritos Locos flavors are coming -- such as "Flamas" -- and Brand Eating is reporting that an all-new flavor is already getting a test run.Some Southern California locations are currently testing Fiery Chicken Cool Ranch Doritos Locos. Brand Eating explains:
The tacos feature the Cool Ranch Doritos Locos Taco shell, but filled with shredded chicken rather than ground beef. The "fiery" comes from Taco Bell's chipotle sauce and is accompanied by the standard shredded lettuce and grated cheddar cheese.
The Fiery Chicken taco costs a bit less than the other Doritos Locos at a mere $0.79.
Taco Bell knows it has a hit on its hands -- the company has sold over half a billion Doritos Locos. Beyond testing new flavors, Taco Bell is also considering crowdsourcing a Doritos Locos flavor as well.
Taco Bell has issued the following statement to The Huffington Post:
Our consumers are fanatical about DLTs, and we're relentlessly innovating around this successful platform. The Fiery Chicken Cool Ranch Doritos Locos Tacos is currently testing in 11 Taco Bell locations in Southern California. So far, consumers tell us they love it and if it continues to do well in testing, we might roll it out to Taco Bell restaurants nationally sometime in the future.
This post has been updated to include comment from Taco Bell.
BEFORE YOU GO
PHOTO GALLERY
High Calorie Chain Meals