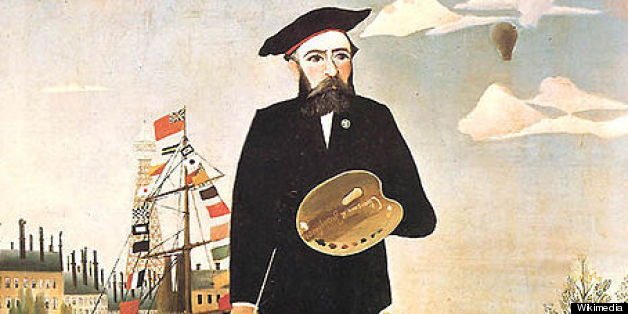 Today is the birthday of French painter and Post-Impressionist mastermind, Henri Rousseau. Known for his fanciful jungle landscapes and primitivist works, the artist would turn 169 if he were still alive today.
Born into a family of plumbers in 1844, Rousseau is the perfect example of a late-blooming artist. He worked as a toll collector for the majority of his early life, sketching in his spare time. It wasn't until the age of 49 that he decided to ultimately abandon his government position in order to pursue art.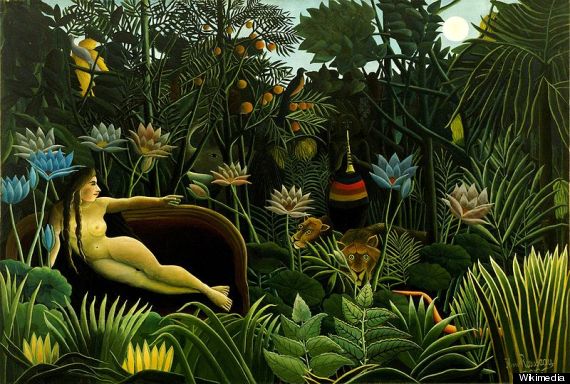 The Dream (1910), MoMA
Rousseau never ventured beyond the territory of his home country, and his signature, child-like style came to life in exotic scenes of wildlife he'd never seen. In pulp novels and art museums, botanical gardens and zoos, he would imagine primitive landscapes crowded by over-sized vegetation and mystical beasts, creating flat, decadent works like "Tiger in a Tropical Storm."
While contemporaries such as Pablo Picasso were enamored with Rousseau's style, critics at the time time were less than enthusiastic about his untutored eye. Corralled to the back of 19th century salons, he was hard-pressed to receive a better review than the one Félix Vallotto bestowed upon him in 1891. "His tiger surprising its prey ought not to be missed," he said. "It's the alpha and omega of painting."
Rousseau's legacy has faired much better in the decades after his death, with historians and critics drawing connections between the self-taught painter and later art greats like Ferdinand Leger and Max Beckman. "Rousseau [was] an astute scavenger and constructor of images, a collagist before the fact and, perhaps, the first artist to recycle popular culture on a grand scale," Roberta Smith wrote in a 2006 piece in The New York Times.
Scroll through the images below for a look at Rousseau's gorgeous scenes and let us know how you are toasting the French painter in the comments.
PHOTO GALLERY
Henri Rousseau