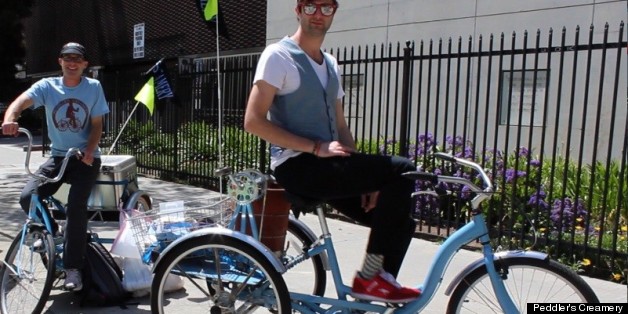 A bike that makes ice cream just may be the best incentive to get people to start really exercising. If at the end of a long bike ride were the promise of a gallon of milk chocolate ice cream, we're pretty sure the streets would be rapidly congested with two-wheel traffic.
And the best part is, it exists! But sadly, not for people like you and I (by which we mean gluttons) to purchase. It's only the ice cream that is churned by this special bike that's for sale -- and it's provided by the artisinal ice cream bicycle shop, Peddler's Creamery.
Peddler's Creamy, an LA-based ice cream company, has reinvented the ice cream truck. Say good-bye to the neon-pink Screw Ball sold from an exhaust-polluting, music-blaring truck and welcome ice cream made from organic ingredients, that was processed entirely by human power. It's a new day for road-side sweets.
Peddler's Creamy started off as a one-bike operation, churning 5 gallons of ice cream per every four miles peddled. It has now grown to a 6-man operation with its own store-front, and an impressive offering of flavors. But don't worry, all ice cream is still made by bike.
Want to read more from HuffPost Taste? Follow us on Twitter, Facebook, Pinterest and Tumblr.
Check out these ice cream sundae recipes.
PHOTO GALLERY
Ice Cream Sundae
BEFORE YOU GO