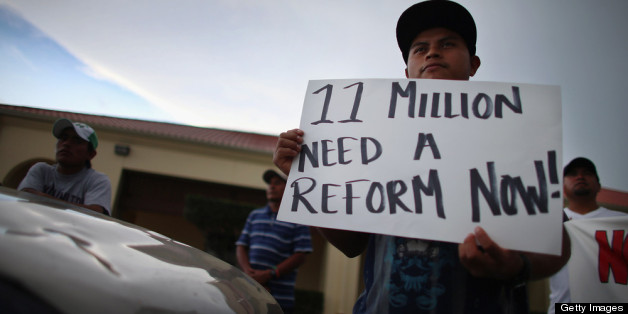 The momentum to pass an immigration reform bill has undeniably changed since past efforts to push for such legislation — and so have the strategies used by immigration reform advocates.
Advocates say they've learned from past mistakes and are implementing new strategies to push for legislation that would pave a path to citizenship for undocumented immigrants. The new strategies include having undocumented immigrants voice their stories, using social media to reach out to millions and building coalitions of diverse supporters.
What didn't work the last time around
These new tactics are different from those used in 2006 and 2007 when Congress was considering a bill that would've provided legal status and a path to citizenship for the 12 million undocumented immigrants who resided in the United States at the time.
Back then, immigration reform advocates organized marches and rallies all across the country to build support for the bill. The demonstrations attracted national attention, but they also caused much controversy after some protesters carried Mexican and Central American flags instead of American flags.
While advocates say they recognize this and other issues that emerged following the marches and rallies, they're also quick to point to the positive impact of these demonstrations. For example, they say these demonstrations helped attract national attention to the plight of undocumented immigrants living in the shadows.
They also say the marches and rallies — during which Latinos chanted, "Today we march, tomorrow we vote" — marked the beginning of voter-registration drives and get-out-to-vote campaigns, which ultimately led to the historic Latino voter turnout in 2012.
Now, with growing momentum for immigration reform, advocates are strategizing ways to keep pressure on congressional leaders to ensure an immigration reform bill passes this year.
Encouraging undocumented immigrants to share their stories
Perhaps the most effective strategy advocates are using to push for immigration reform is encouraging undocumented immigrants to share their stories — just like Dreamers have been doing in the last few years.
"We've been trying to put the face of immigration in front of the public, but it's been very difficult," Ben Monterroso, executive director of Mi Familia Vota, told VOXXI. "There have been a lot of parents who didn't want to risk themselves because they have families to support."
For years, undocumented immigrants kept quiet about their immigration status because they feared it would lead to deportation. But now, many of them are following the lead of Dreamers — who were the first group of undocumented immigrants to disclose their immigration status — and are no longer afraid to say they're undocumented.
With the help of pro-immigration reform advocates, undocumented immigrants are also traveling to Washington, D.C., to lobby for immigration reform. Others are meeting with congressional leaders to talk about the struggles they're facing and how they would benefit from immigration reform.
"We have to give credit where credit is due. It was the youth who said, 'We have nothing to lose, so we are going to say who we are, where we stand and what we want,'" Monterroso said of Dreamers. "Now, we have more parents doing the same."
Using online tools to advocate for immigration reform
Advocates are also taking tips from Dreamers on how to use technology and social media to advocate for immigration reform.
Immigrant youth-led groups — such as United We Dream and Dream Activists—use technology and social media in a number of ways, including to connect with Dreamers throughout the nation and to stop deportations.
In 2010, they used various online tools to advocate for the DREAM Act, legislation that would've paved a path to citizenship for undocumented youth. The bill came close to passing in 2010. Most recently, they turned to technology and social media to pressure the Obama administration to implement the deferred action program, which protects Dreamers from deportation and grants them work permits.
Like Dreamers, immigration reform advocates are using social media to reach out to millions of people to encourage them to get involved in the fight for immigration reform. One tactic they're using is asking undocumented immigrants to share their stories online, a strategy Dreamers have also used in the past.
Cesar Vargas, executive political director of DRM Action Coalition, a pro-immigration reform group led by immigrant youth, said technology and social media helps advocates "amplify their message and reach out to a wider audience." His group uses various social media platforms to expose where congressional leaders, such as Sens. Jeff Sessions (R-Ala.) and Ted Cruz (R-Texas), stand on immigration.
Building coalitions of divers immigration reform supporters
Advocates are also focused on encouraging divers groups of people to launch campaigns and create coalitions in support of immigration reform.
One campaign launched in February by the Hispanic Leadership Network is aimed at growing support for immigration reform among Republicans.
The campaign consists of television commercials featuring key Latino Republicans. Among them are Sen. Marco Rubio (R-Fla.) — one of the eight authors of the Senate immigration reform bill — and former U.S. Secretary of Commerce Carlos Gutierrez, who heads a political action committee focused on supporting Republicans who advocate for immigration reform.
Another campaign is headed by a coalition of Evangelical leaders, dubbed the Evangelical Immigration Table. Evangelicals often identify themselves as conservative Republicans. Up until recently, there weren't many Evangelicals who voiced their support for immigration reform because they viewed undocumented immigrants as lawbreakers.
But that has been changing as members of the Evangelical Immigration Table seek to build support for immigration reform. They recently launched a 92-day campaign to pray for an immigration reform bill that "upholds our values of human dignity, family unity and respect for the rule of law."
Facebook CEO Mark Zuckerberg has also joined the fight for immigration reform. The 28-year-old billionaire recently partnered up with other executives to form an independent expenditure group focused on pushing for comprehensive immigration reform, among other issues.
Originally published on VOXXI as A change of strategy to push for immigration reform

BEFORE YOU GO
PHOTO GALLERY
10 Major U.S. Federal Immigration Laws