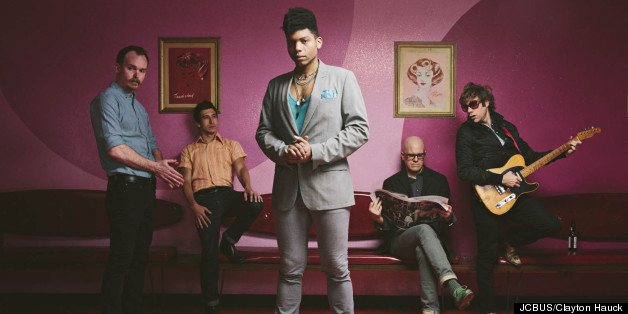 Among Jayson Brooks' many talents, hiding out is not one of them.
"As a final acceptance of my height, I've grown my hair super, super long for this skyscraper effect," the towering (Brooks stands at 6'3") and well-coifed frontman of JC Brooks & The Uptown Sound told HuffPost Chicago in a recent interview.
Following a year of near non-stop performances around the globe and a nod from the hit Fox comedy "The New Girl," Brooks is easily the most recognizable face of the Chicago-based band.
Brooks acknowledged the group's popularity has grown since their 2011 album which featured a rousing soul cover of Wilco's "I Am Trying To Break Your Heart."
"More people are aware of us, and we're meeting a lot of random people," Brooks said. "I'm kind of jumpy by nature, so meeting people who recognize me surprises me. But, it's a flattering kind of surprise."
The singer called the poster on the "New Girl" "a real coup" for the band. "Jake Johnson (the character "Nick" on the show) is a big fan of the band. It's a nice little wink. I didn't know about it until someone sent me a message on Facebook telling me about it," Brooks said.
For the band's second release with Chicago label Bloodshot Records, Brooks said, "We're trying to get something together that's fun and new and exciting."
Brooks said the band started out with "danceable stuff, like Stax Records," which "made some impressions on people with that old sound." Now, the Uptown Sound is planting a foot in both worlds with nods to more experimental rock.
"It's not necessarily calculated, but the sound has been updated more this time around for this new record. There are synths, vocal effects.. stylistically borrowing more from Nile Rodgers than Albert King," Brooks said.
"Howl" is already pulling in rave reviews, meaning the recognition for Brooks and the rest of the Uptown Sound is unlikely to let up. The singer said the acclaim is both exciting and surreal."
Ahead of the Tuesday debut of "Howl," HuffPost asked Brooks to tell us more about his early days before the Uptown Sound by taking part in our My Chicago questionnaire.
Where in the city do you live and how long have you lived there? I live in Uptown and I've been my place for about three years, and before that was in Rogers Park for six, almost seven, years.
What is your age? What is your occupation? 32. I am an actor who is cast as a musician and it's the role of a lifetime. And also I'm an all-around artist. I actually don't do much visual work anymore, but I used to be a graphic designer, and I write poetry, and write songs — all kinds of "creative-oriented" stuff. Sorry, that response is not going to get me hired anywhere.
What was your first job in Chicago? My first job was as a talent agent — or rather — I started in a talent agency. I started out as the receptionist and worked my way up to being their film and talent person. But it sucked because as an ethical person, I was not acting because there couldn't be the appearance of favoritism should I actually book a gig I ended up auditioning for. I ended up leaving so I could go back to acting.
I got a really good grasp of learning how the industry works and learned what all that actors do wrong when visiting with their agents and such. I also got a really good feel for how specifically the Chicago industry works — or how the industry works in Chicago. I represented a lot people who I ended up working with later.
Even going back to "The New Girl," Lamorne Morris [ed note: the character Winston] was one of our exclusives. And I used to see him in the office all the time. Random shit like that; a whole lot of connections. Even though I had to put a lot of my acting aside, it was a good lateral education.
Interview continues below.
Which Chicago "celebrity" -- living or dead, real or fictional -- would you have over for dinner? What would you talk about? I say I'd have Curtis Mayfield. And we would talk about whatever. I'm sure we'd both eventually start talking about music, but I'd be happy to just sit and absorb. Maybe ask him, "Do you have any songs [from The Impressions] you recorded but never released? Anything you were kicking around with the band but never released?" Since you're gonna be dead again in like, three hours, you only have one more course before dessert and coffee, then you gotta head back to the grave. Might as well get it out now!

What is your favorite "last call" bar? Tough to say. If I'm in still in the neighborhood, I'd say Uptown Lounge because they're open till 4 a.m. I love Innertown [Pub] but they close at normal bar time. Maybe if my friends are all up for it, we'll go way north and head to Jackhammer or something, because on weekends they're open like 5 a.m. Basically, I can walk out of the bar and into some fresh sunshine and feel like a vampire. And terribly irresponsible.
Where is your favorite place to grab brunch? If I end up making it home and I sleep in my own bed, then I'll go to the Golden House right next to the [Riviera Theater]. It's all diner food. The best thing about them is that their menu is senior menu prices — but for everyone all day.
Maybe I'll hoof it over to the Golden Nugget on Lawrence. Or I'll go to Tweet if I have someone I want to impress. Usually after a night of partying it's all about getting carbs and oil and meat.

What are your go-to spots when you have visitors in town? Depending on how often they visit the city or where they're from, I try to take them to a show at Second City or just a walk along the beach — in the summer. Or, I go to the zoo and the botanical gardens out by Lincoln Park.
What is the last cultural event you saw in the city? What'd you think? Does IML [International Mr. Leather] count as culture? It is representative of a culture. Actually, I saw this play the other week, a show called "The Whale" at the Victory Gardens Theater. It was an amazing show, produced by a Chicago theater company.
I was there opening night, packed house — and there's no intermission, and a half hour into the show I had to pee. It doesn't say how long the show is, so how long will I be sitting there? Finally I get up and go, and there are monitors out in the lobby so you know when to go back in. The problem is I was seated in the middle of a row, and the last third of the play is really, really quiet. It's also a really emotional part, so basically I'm standing by the door weeping the entire time. Sobbing, but trying to do quiet sobbing. People with seats in front of me kept turning around, because there's this big black dude standing over them crying.
But one of the best shows I've seen at a long time.
If you had to have your last Chicago meal for some tragic reason, where and what would it be?
Taste of Lebanon, and I'd get a full-on plate of something. Then I'd just rock out with their lentil soup.
Cubs or Sox? I don't really follow sports so I'd say White Sox because they've never inconvenienced me.
Wicker Park, 1993 or Wicker Park, 2013? See, I have no frame of reference back in back in '93. I was safe in New Jersey's bosom, so I'd have to say 2013.
Chicago-style hot dog, Chicago-style pizza or Chicago-style politics? No one ever chooses the third one. Who the hell chooses that? I think it's terrible. Chicago politics: makin' me sad. Hot dog, definitely.
What advice would you give to a new Chicago transplant? Live near a train. There's awesome stuff in every neighborhood, so you can't screw yourself by where you live, only by not living near some transportation.
What do you miss the most when you're not in Chicago? Friends.
If you could change just one thing about our fair city what would it be? The gang problem. The gang-gun problem. I can handle shitty politics. One of our percussion students [ed note: Columbia College student Kevin Ambrose] actually got killed the other day. It's been a reality for me, hearing about so many people. It's always the kid with so much potential. It's an epidemic and there's something where I could wave a wand and get one wish, Chicago specific, it would be for people to have some sense.
It's a thing I'm very surprised someone hasn't already gotten a handle on, especially since we're in the hometown of the nation's president. There are countless gangland maps, there are well-known tattoos...people know the social lives of these gangs. I don't know what the cops have done to engage them in a non-adversarial way, but whatever they're doing doesn't seem to be working. We're setting records in the worst possible way.
Describe Chicago in one word. Home.
JC Brooks & The Uptown Sound's latest release, "Howl," is out now on Chicago label Bloodshot Records. The band plays May 25 at Mayne Stage.
In 1951's "Chicago: City on the Make," Nelson Algren wrote: "Once you've come to be a part of this particular patch, you'll never love another. Like loving a woman with a broken nose, you may well find lovelier lovelies. But never a lovely so real." Through My Chicago, HuffPost is discussing what, to this day, makes the patch we call home so lovely and so broken with some of the city's most compelling characters.