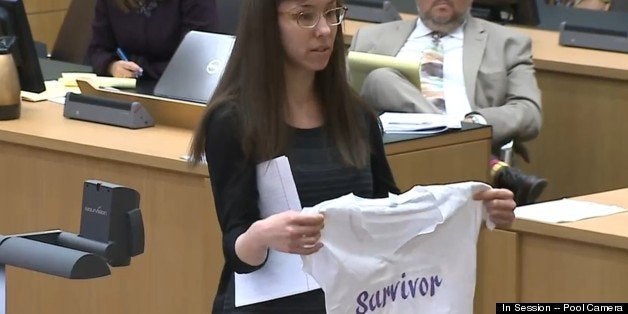 Jodi Ann Arias, who once boldly said a jury would never convict her, waited on Tuesday for jurors to complete deliberations that could end in sentencing her to death.
The same jury of eight men and four women who last week convicted Arias of first-degree murder in the death of her 30-year-old ex-boyfriend Travis Alexander are debating whether she should be sentenced to death.
In the hearing preceding the jury's deliberations, defense attorney Jennifer Willmott asked the jury to save Arias' life. "Jodi took Travis away. She took him away from his family and she took him away from this world, but two wrongs do not make a right ... You have a choice ... We are asking you to find that Jodi's life is worth saving," Willmott said.
But prosecutor Juan Martinez demanded death.
"Mr. Alexander was only 30 and will forever be 30," Martinez said. "Mr. Alexander is no longer going to have any more yesterdays ... You have a duty ... the difficult thing under these circumstances -- the only thing you can do -- is return a verdict of death," Martinez said.
Arias, 32, was convicted in the 2008 slaying of Alexander, who she stabbed nearly 30 times and shot in the head. The verdict, reached after more than 15 hours of deliberations, was a clear rejection of defense psychologist Richard Samuels' contention that she suffered from PTSD and acute stress disorder.
The 32-year-old defendant, dressed in black on Tuesday, pleaded with the jury to spare her life. "I loved Travis and I looked up to him. At one point he meant the world to me," Arias said. "To this day I can hardly believe I was capable of such violence."
Arias maintained she was a victim of domestic violence, whether anyone believed it or not, and said she had a lot to offer other inmates if she received a life sentence. She said she could teach people to read and write, and could help raise awareness about domestic violence.
During her 19-week trial, Arias' attorneys were unable to produce a shred of evidence to support her contention that she had been physically abused by Alexander. And, as the prosecution pointed out, there are no police reports or other supporting documents indicating abuse.
On Tuesday, Arias referenced a statement she made to the media on May 8, that she would prefer the death penalty.
"I've made many statements I would prefer the death penalty over life in prison ... To me, life in prison was the most unappealing outcome ... but as I stand here now, I can't in good conscience ask you to give me death," Arias said.
The jury began deliberating Arias' fate around 6 p.m. ET. Members will ultimately decide if she receives the death penalty or life in prison.
BEFORE YOU GO
PHOTO GALLERY
Remembering Travis Alexander