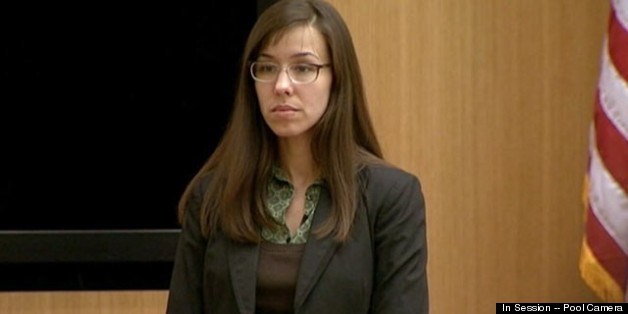 For nearly a week trial watchers have been anxiously waiting for Jodi Arias to take the stand in the penalty phase of her murder trial. Could today finally be the day she asks the jury to spare her life?
Or could the 32-year-old ask jurors to send her to death row?
Immediately after her May 8 conviction in the murder of her ex-boyfriend she told Fox News affiliate KSAZ: "I believe death is the ultimate freedom, and I'd rather have my freedom as soon as I can get it."
Given yesterday's courtroom theatrics -- a defense motion for a mistrial and an impromptu request to step down from the case -- the defense team's next move is unclear.
Last week the defense said they planned to call two people to testify on behalf of Arias -- Darryl Brewer, her ex-boyfriend, and Patricia Womack, a childhood friend. However, Womack notified the defense on Sunday that she is no longer willing to testify due to death threats. Her decision is what prompted the defense to file their motion for a mistrial on Monday.
In a surprise move the defense team, obviously upset with the judge, announced they would not be calling any witnesses in the penalty phase.
"This cannot be a modern-day version of stoning or witch trials," defense attorney Kirk Nurmi told the judge.
The defense team's decision not to call any witnesses is somewhat confusing, considering Brewer told AZcentral.com that he was ready and willing to ask the jury to spare Arias' life.
Arias, 32, was convicted in the 2008 slaying of Travis Alexander. The verdict, reached after more than 15 hours of deliberations, was a clear rejection of defense psychologist Richard Samuels' contention that she suffered from PTSD and acute stress disorder.
CLICK HERE FOR PHOTOS OF TRAVIS ALEXANDER
Last week, the same jury that convicted Arias declared she was eligible for the death penalty. The jury made their decision after less than three hours of deliberation.
In retrospect, Arias' attorneys appeared to put little effort into the aggravation phase. They offered no witnesses and gave only a brief opening statement and closing argument. Is there an underlying strategy being played out or has the defense team thrown up their hands? Like so many other questions surrounding this bizarre case, the answer is not yet known.
With no witnesses being called to speak on her behalf, Arias will likely address the jury herself today. Her words could determine if she receives the death penalty or life in prison.
The trial is scheduled to resume at 12:30 p.m. Eastern time.
Read below for minute-by-minute updates from court Tuesday:
The Huffington Post is live blogging Tuesday's testimony. Check back here for updates.
BEFORE YOU GO