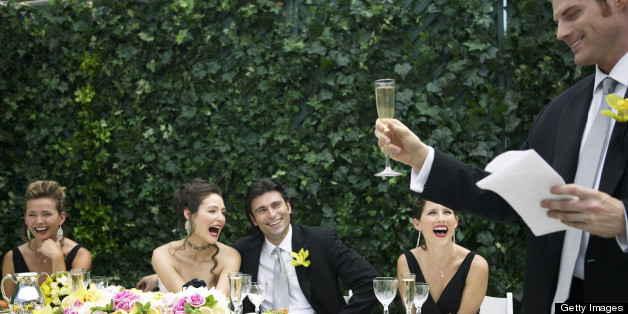 What would you say if you were giving a toast at your ex's wedding?
It's an unimaginable scenario for many, but in a recent HuffPost Divorce blog, writer Tara Ellison shared her experience doing just that. In the blog, Ellison detailed what drove her to attend her ex's wedding (with her fiancé by her side) and why she felt compelled to give a toast to the newlyweds as the evening wore on.
"I looked over at my fiancé, so stoic and strong beside me, willing to do whatever it took to make our life together work and I felt a tremendous rush of gratitude for the way things had worked out," she wrote, "Inspired, (and with a few champagnes under my belt), I raised a glass to give an impromptu toast -- to an instantly hushed room. I gave a toast to honor the two of them, to her role as my daughter's stepmother and their new life together. It was one of my finer moments."
We were touched by Ellison's essay, so we decided to ask our readers on Facebook and Twitter to share with us what they would say in the unlikely event that they were called on to give a toast at their former spouse's wedding. Click through the slides below for their responses -- which range from sweet to decidedly less sweet ("Try not to screw the bridesmaid (again) this time and you two just might work!") -- then scroll to the comments and tell us what you would say in your toast.
PHOTO GALLERY
My Toast At My Ex's Wedding
Keep in touch! Check out HuffPost Divorce on Facebook and Twitter.
BEFORE YOU GO