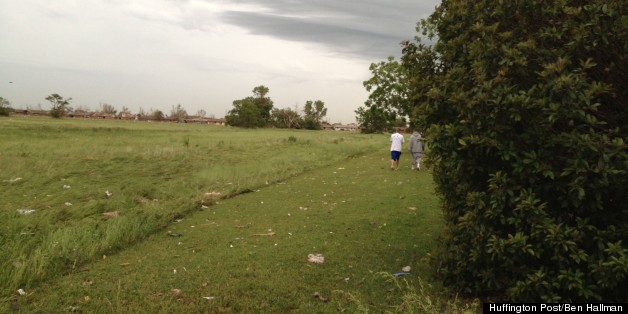 Moore, Okla. -- As lightning danced in a dark sky Tuesday morning, Laroyce Evans approached a chest-high fence, gave a quick look around, and then vaulted over it into a field strewn with bits of insulation and debris.
He was headed to the strip of damaged and destroyed houses visible on the far edge, maybe 100 yards away, to look for a friend who Evans said he last spoke with Monday afternoon, shortly before a monster tornado roared through here.
The friend, who Evans identified only as Dustin, is a house painter who was on his way home to check on his mother just before the storm struck.
"He would have called if he was ok," Evans said. "This is a bad deal. We are going to go find him."
The fence, tucked away behind a grimy but still standing strip mall, amounts to a waypoint to another world. On one side, homes and lives are still intact. On the other, beyond the waterlogged field, rescue workers are searching for signs of life amid the rubble. Evans said his friend lived across the street from Plaza Towers Elementary School, where rescuers continued the grim work of sifting through rubble for bodies of children.
The fence is also a back entrance of sorts for people who can't get through the increasingly tight security corridor that police have established around the school and the neighborhood.
Randall Thurman knew this back way, he said, because he grew up in the neighborhood. He used to play in the field, and as a child, he attended Plaza Towers. Thurman pointed out what he thought was his old home.
The destruction was so great that it was difficult to discern. An old friend was here Monday, Thurman said, and he couldn't even identify his own street. He then scaled the fence and hiked toward the destruction.
Just around the corner, but out of sight, an Oklahoma sheriff's deputy interviewed people who had lined up in cars and on foot hoping to gain access to the restricted neighborhood. One man, who declined to give his name, was turned away, even though, he said, his still-intact home was visible just down the street.
"I need to get my work clothes," he said, visibly frustrated.
Dan Southerland and his daughter Megan West were more fortunate. Around noon, they walked out of the neighborhood in a spitting rain accompanied by three airmen from the National Guard. All were lugging suitcases and bags of belongings taken from what was left of Southerland's 72-year-old mother-in-law's home.
The family, including Southerland's wife, rode out the tornado in a storm shelter along with other family and neighbors, including two children less than a year old.
At the height of the storm, as the tornado roared outside, the door to the shelter suddenly vanished into the sky, sending debris flying into the enclosed space. Southerland pulled up his red University of Oklahoma T-shirt to reveal a deep scratch in the middle of his back.
"We're lucky," he said.
A few minutes later, Evans walked out of the neighborhood, past the police checkpoint. He had been to the demolished home, but found no sign of Dustin or his mother.
"It's a good sign" Evans said, hopefully.
BEFORE YOU GO
PHOTO GALLERY
May 2013 Central U.S. Tornadoes (GRAPHIC IMAGES)