While emergency services on the ground work to help survivors in the aftermath of the devastating 2-mile-wide tornado that ripped through Moore, Okla., Monday afternoon, NASA has released images of a satellite view of the twister from space.
After severe weather conditions in the area became apparent Monday, the National Oceanic and Atmospheric Administration (NOAA) tasked its GOES-13 satellite to take images of the weather event more frequently than its usual 30-minute intervals.
"The added frequency greatly assists meteorologists in understanding rapidly evolving weather events," NOAA explained in a YouTube caption posted with a high-speed animation of the stormfront that battered Oklahoma. (See the video below)
NASA's Aqua satellite also captured visible-light images of the storm that led to the Oklahoma tornado.
In the image below, acquired by the Moderate Resolution Imaging Spectroradiometer on the satellite, a red line shows the tornado's 20-mile path through Moore, just south of Oklahoma City.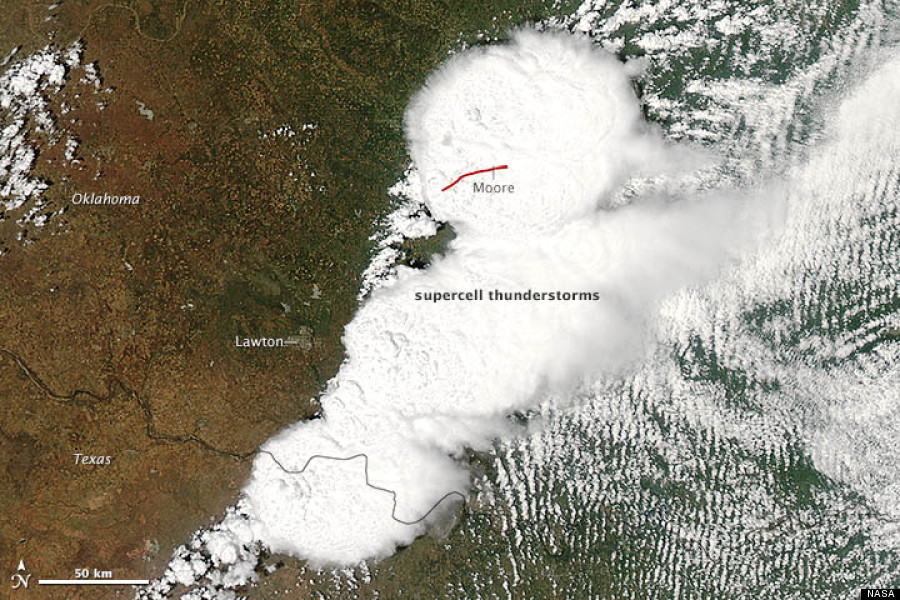 Click the video to watch animation of the storm front that battered Oklahoma, then click through the gallery below to see more photos of the 2013 Oklahoma tornado, as seen from space.
PHOTO GALLERY
Oklahoma Tornado Seen From Space
BEFORE YOU GO