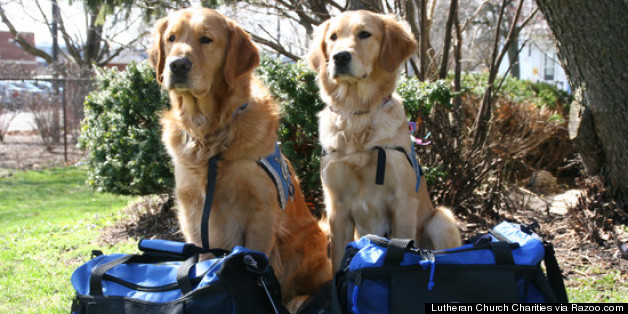 Just as they had following previous tragedies in Newtown, Conn. and Boston, a crew of Chicago-area therapy dogs are now heading to Moore, Okla. to help comfort victims of the devastating tornadoes that touched down Monday.
Ten dogs from Addison, Ill.-based Lutheran Church Charities' K-9 Comfort Ministry began their 12-hour drive to Moore just after noon on Tuesday, according to Fox Chicago. The golden retrievers are reportedly being driven straight through and were expected to arrive Tuesday evening.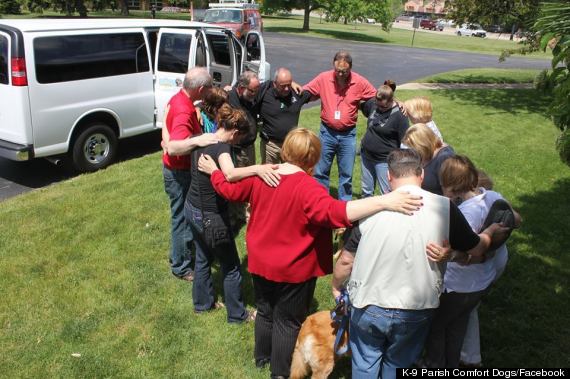 Lutheran Church Charities staff and volunteers pray before their comfort dogs depart for Oklahoma on Tuesday in Addison, Ill. (via Facebook)
The dogs received an invitation from Pastor Muenchow at Messiah Lutheran Church in Oklahoma City, according to a Razoo.com page raising funds to help cover the dogs' travel expenses. As of late Tuesday afternoon, the page had raised over $5,100 toward the church's efforts.
(Follow live updates from Oklahoma. How to help.)
Tim Hetzner, the president of Lutheran Church Charities, previously told HuffPost the dogs "help people as they process all the emotions they go through in any type of crisis."
And though the dogs' stay in Oklahoma will be temporary, their impact will continue beyond their visit. According to Fox, each of the dogs has their own business card and Facebook profile, allowing victims to keep in touch.
BEFORE YOU GO
PHOTO GALLERY
Comfort Dogs Deployed To Newtown
***