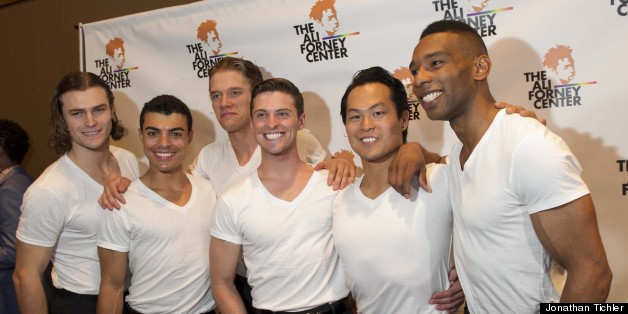 Six of New York's hottest chorus boys sang, danced and stripped before a packed house at NYU's Skirball Center for the Performing Arts May 20, each vying for the coveted title of "Mr. Broadway."
Taking home the crown this year was "Pippin" star Orion Griffiths, who wowed judges Andrea Martin, Billy Porter and Michael Urie with a white-knuckle acrobatic routine. Similarly impressive was Yurel Echezarreta of "Matilda," who got a standing ovation for his spot-on impression of Beyonce's "Crazy in Love," and "Silence! The Musical" actor Callan Bergmann, whose razzle-dazzle, jazz-hands parody of The Drifters' "On Broadway" was one of the evening's major highlights.
Proceeds from the event, which is now in its seventh year, went to New York's Ali Forney Center, which is dedicated to lesbian, gay, bisexual and transgender (LGBT) homeless youth.
Despite the sexy festivities, the city's recent spate of alleged anti-gay hate crimes (including the May 18 murder of Mark Carson) wasn't far from the minds of both the audience and the hosts.
"Homophobia is so much about saying that we don't have value to people. And what was done to Mark Carson was such a stark message," said Ali Forney Center Executive Director Carl Sicilano.
He then added, "As confused as I often feel about the work that we do, what I'm absolutely not confused about is how grateful I am to have the opportunity to work with these wonderful young people."
Check out photos from the Broadway Beauty Pageant below:
BEFORE YOU GO
PHOTO GALLERY
Broadway Beauty Pageant 2013