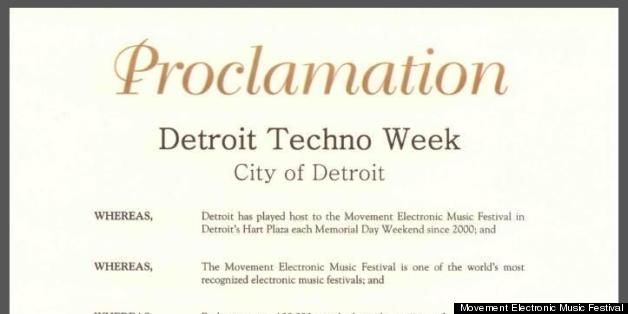 It's the third week of May, right? Or perhaps you'd call it the third week of the NHL playoffs? Or instead you're focused on celebrating National Pet Month, or maybe Morrissey's birthday? Well, stop. Because in advance of the Movement Electronic Music Festival, it's officially techno week in Detroit, and we have the paperwork to prove it.
That's right, in the middle of grappling with the city's financial crisis, Mayor Dave Bing took a moment to sign a proclamation declaring Detroit Techno Week, beginning Tuesday and lasting through Monday, May 27. Movement, which kicks off Detroit's bang-up summer of festivals and concerts, brings some of the most reputable acts in electronic music to downtown's Hart Plaza Saturday through Monday, as well as thousands of fans from all over.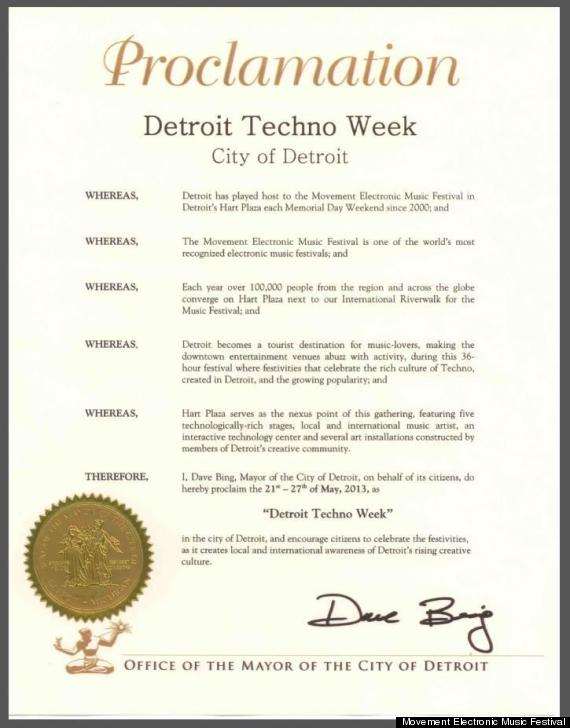 This year, you can see heavy hitters like Moby, Carl Craig, Derrick May, Adult., Squarepusher, DJ Dubfire, Richie Hawtin and Kevin Saunderson on Memorial Day weekend. Check out the Movement Electronic Music Festival website for a full lineup, schedule and more info.
There's nothing like a gold seal to spur a mandatory city-wide celebration. Though some of us still have a few responsibilities before Saturday, there are ways to infuse the techno spirit into your daily life. Below check out our suggestions on how to get festive, leave us your own in the comments, and if you try any, make sure to send us the photos as proof!
PHOTO GALLERY
Ways To Celebrate Detroit Techno Week
BEFORE YOU GO