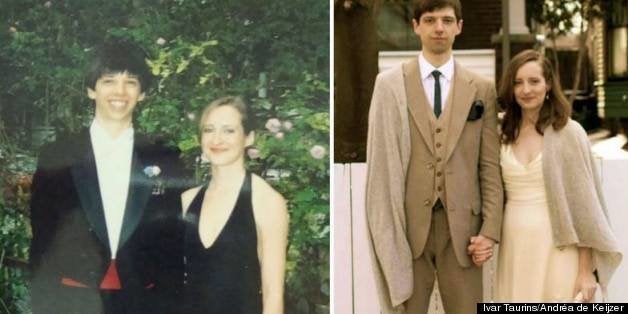 Toronto dancers Corey Crawford and Larissa Taurins-Crawford met 13 years ago in high school. After dating for nine years, they married earlier this year in a gorgeous, intimate ceremony. Below, Taurins-Crawford tell the story of the couple's relationship, and shares meaningful photos from their Big Day.
I met my husband in ballet class. We were both in tights, and although it was not love at first sight, we each had a feeling that we should get to know each other better.
I wanted to go out with Corey in Grade 10. He was really not interested (more enthralled with sports and video games at the time), but through giggly note passing and many efforts on the part of my friends, he was madly pursued. This came to a harsh stop when he finally passed back a note that said 'Umm . . . NO. Have a nice life.' Ouch! Luckily, high school was full of distractions, and I quickly forgot about our attempted connection.
That was, until Grade 12, when Corey sat me down in the dance hallway and told me he wanted to be with me. He had been thinking about me for the past year. We decided to be a pair a few days later, on a December afternoon in 2003.
Since then, we have grown up together and our relationship has grown up too. We have gone from carefree teenage dating to husband and wife over the course of the last nine and a half years. Marrying your high school sweetheart shows you just how much effort and constant transition a relationship needs, but also if cultivated lovingly, how much it can flourish and strengthen.
Our wedding was such a joy. We celebrated it with our closest friends and family in an intimate ceremony and reception at the dance school where I work, Pia Bouman School for Ballet and Creative Movement. Our community made the wedding happen, working tirelessly to transform the space. We had a big potluck, dancing, and an old fashioned popcorn machine!
In the months leading up the wedding, we were close to having to postpone it as I have a chronic illness and it flared badly out of control and led to a depressive episode. I was just so sick, I could barely imagine attending my own wedding, and we were both under an extreme amount of stress due to it. However, I pulled through and a mix of adrenaline and medications allowed me to fully enjoy the day and be present. This adversity refocused the entire wedding for both Corey and I, I think for the better. All of the little concerns about decorations and guest lists and things on the periphery melted away; our only aim was to be married to each other and be with our family and friends in doing so. In the end, it became about the marriage, not the wedding, which is really is the whole point of it anyway!
PHOTO GALLERY
Corey and Larissa's Wedding