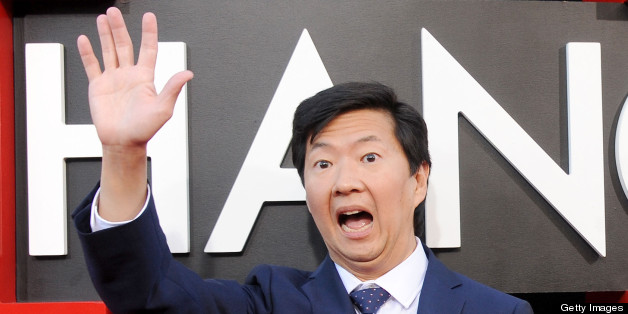 Ken Jeong's come a long way from his doctor days. First amusing audiences as a cranky OBGYN in "Knocked Up," he has since entertained "Community" fans and cuts a memorable villain in the "Hangover" franchise. It's that latter gig, however, that is really starting to pay off.
So how much money are we talking here? Sources told The Hollywood Reporter that Jeong was paid $5 million for "The Hangover III," which hits theaters Friday.
That's a pretty sum, though it's not too shocking. The first two "Hangover" movies made $467 million and $586 million around the world, respectively, and the third installment is tracking toward a $73 million opening weekend.
Regardless, it's a nice pick up for the 43-year-old actor who lived the life of a struggling stand-up comedian before he was cast in Judd Apatow's "Knocked Up." In an interview with HuffPost Entertainment, Jeong expressed his appreciation for his "Hangover" role as a way to surprise himself. "For me to be known for playing 'crazy villain roles' is -- as a guy in real life who is a mild-mannered doctor -- that's the biggest accomplishment that I could think of," he said. "I think other people would look at it like, "'Oh, he's typecast as the villain.' I'm looking at it like, 'Oh my God, I'm typecast as a villain! It's amazing!'"
For more, head over to THR.
BEFORE YOU GO
PHOTO GALLERY
Summer Movie Preview 2013