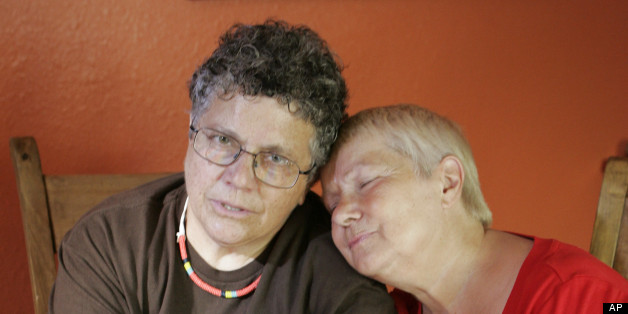 WASHINGTON -- Although Democrats abandoned same-sex couple provisions in immigration reform legislation on Tuesday, LGBT activists will continue to support the bill, saying there are aspects of the "gang of eight" plan worth fighting for, even if it leaves out gay couples.
"Immigrants come in all shapes and forms. Is it too much to ask to be looked at as a full human being, as an undocumented immigrant who happens to be gay?" said Jose Antonio Vargas, a journalist and immigration reform advocate who founded Define American.
"That's what I find so frustrating in this whole process," he continued. "But I support this bill. This is not a perfect bill but we need to move forward and this is a bill that gets us forward. So let's go forward."
The Senate Judiciary Committee passed the bipartisan gang of eight immigration bill on Tuesday in a 13-5 vote, with three Republicans -- Sen. Orrin Hatch (R-Utah) and gang of eight members Sens. Lindsey Graham (R-S.C.) and Jeff Flake (R-Ariz.) -- supporting the bill. The vote will send the bill to the Senate floor, but it followed a major loss for the lesbian, gay, bisexual and transgender community; Judiciary Committee Chairman Patrick Leahy (D-Vt.) pulled his amendment that would have allowed foreign-born partners in same-sex, binational couples to petition for a green card in the same way heterosexual partners can.
Republicans, including Graham, insisted the amendment would kill immigration reform, giving Democrats little choice. "You've got me on immigration, you don't have me on marriage," Graham said at the markup Tuesday evening, threatening to abandon his own bill. "I just can't tell you more directly. If you want to keep me on immigration, let's stay on immigration."
There are an estimated 40,000 binational same-sex couples in the United States, but there are also an estimated 11 million undocumented immigrants, many of whom would be helped by the bill. Around 267,000 of them are LGBT.
Sen. Dick Durbin (D-Ill.), a gang of eight member, said if it came down to opposing the same-sex couple amendment or killing the whole bill, he'd have to do the former. He's a longtime proponent of both immigration reform -- particularly the Dream Act to give legal status to undocumented youth -- and equality in the process, and sounded pained as he explained why he wouldn't support Leahy's measure.
"I believe that this is the wrong moment, and this is the wrong bill," he said.
The White House, for its part, indicated that the administration would be willing to accept a compromise bill without the same-sex couple provision, even though President Barack Obama supports it.
It was disappointing news for LGBT and immigrant activists.
"We're outraged by the political lack of interest," said Felipe Sousa-Rodriguez, an undocumented immigrant who works for the LGBT advocacy group GetEqual and whose husband is a soon-to-be U.S. citizen.
After Leahy withdrew the amendment, Immigration Equality Action Fund Executive Director Rachel Tiven, said in a statement that senators "abandoned LGBT families without a vote." Tiven pointed out in an interview on Wednesday that Immigration Equality, despite its marriage focus, also works on other LGBT issues such as helping people who are seeking asylum because they feel unsafe in their home country. She said the immigration reform bill is important even without same-sex couple provisions because it offers a path to citizenship and asylum provisions. Under the bill, a one-year deadline would be eliminated for asylum seekers to make their applications, giving LGBT immigrants worried about coming forward more time to make their claim.
If the Defense of Marriage Act is struck down by the Supreme Court, the issues faced by binational couples would, in part, be moot. In that case, the federal government could recognize legal marriages between two men or two women for immigration purposes, although some couples would have to travel outside their state to get married legally.
For Judy Rickard, the loss of the amendment means there won't be anything in the immigration bill to help her and her wife, Karin Bogliolo. Bogliolo is from the United Kingdom and is in the country legally, but Rickard has been unable to petition for a spousal green card. If they can't stay in the U.S. together, Rickard may decide to leave her country. She said Wednesday she was "still reeling" from what happened.
"I still say we win together or we lose together," she said. "I can't say I am surprised we got left out, but it hurts beyond my imagination, and I realized it as I was watching and listening that Democratic senators would talk about groups of people and pit them against each other."
One of the things LGBT groups find most frustrating is the idea that it's them versus immigrant rights advocates. Gay rights and immigration advocacy groups formed coalitions to push for comprehensive reform, and they plan to stick together despite disappointments.
"The LGBT community did not put ourselves in this position," Dave Montez, the acting president of GLAAD, said. "We said that we were supportive, we continue to say we're supportive. At some point there needs to be conversations about the conservative leaders that created this false dichotomy, that created this false choice between LGBT people and immigrants."
BEFORE YOU GO
PHOTO GALLERY
Controversial Immigration Laws