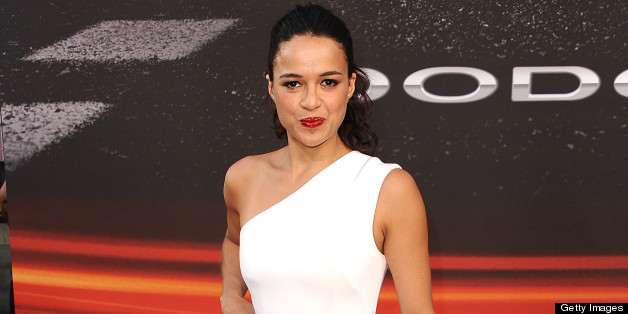 Michelle Rodriguez makes her big return to the "Fast and Furious" franchise with the release of "Fast Six," hitting theaters on May 24. Rodriguez's character Letty Ortiz was thought to be dead after the fourth film in the series, but her resurrection was alluded to in "Fast Five" and comes to pass in "Fast & Furious Six."
The role has been lucrative for Rodriguez, landing her in multiple "Fast and Furious" installments and aiding in the growth of her career. It was, however, a part that she was slightly apprehensive about at first.
"Oh my god, I was crying on the set," Rodriguez said in an interview with Vulture. "I was like, "Look, dude, I love you guys, I really want to be a part of this, but I can't play a slut in front of millions of people around the world." I'd rather go back to Jersey City, doing my small little indie movies."
Rodriguez's character Letty Ortiz was a part of the film series as the love interest to one of the main characters, Dominic Toretto, played by Vin Diesel.
"It's not until now, post–Angelina Jolie, doing her thing as a woman who can actually bring box office, that you can make money with a woman who's respectable and kicking ass in a movie," Rodriguez added. "It changes the game for writers. Before there was no incentive for them to take the girl out of being captured or being the girlfriend. That tone was something that was set in the first one by me fighting Rob Cohen, to punch somebody and knock him out. I knew, in the streets, if your tribe was getting in a fight, it doesn't matter if you're a girl or a boy, you're throwing a punch because that's just the way the streets work."
For more from Michelle Rodriguez on "Fast 6," head over to Vulture.
PHOTO GALLERY
'Fast Six' Trailer Reactions
BEFORE YOU GO