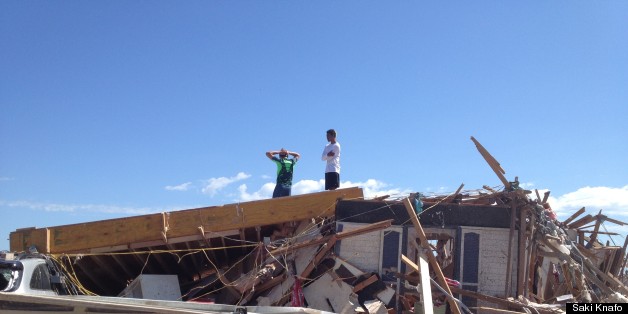 MOORE, Okla. -- Around 10 a.m. Wednesday, two days after the tornado, Darius Joseph and his friend Brandon Dick set out for the disaster zone that used to be their neighborhood to see what they could salvage from the rubble.
Their eyes searched for contours of geography they could place, some shape they knew. But all they could see, sprawled in every direction, were piles of bricks, beams, splintered two-by-fours, shingles, twisted lengths of pipe and shattered glass.
"I'm being totally honest with you," Darius, 15, said. "I don't even know where we are."
The wreckage left by the mile-wide tornado that swept across central Oklahoma, killing at least 24 people, is so comprehensive and so jumbled that it challenges the very concept of rebuilding. So little is left that it's hard to know where to start. Thousands of people are now homeless, their houses battered beyond recognition and their futures far from clear.
For Darius, a sense of dislocation is nothing new. Until he was 8, he lived in an apartment in New Orleans. Then Hurricane Katrina hit, and he and his mom evacuated to Houston, before resettling here, in the suburbs of Oklahoma City.
His mother's constant fights with his stepdad prompted him to seek refuge. In February, he moved into a spare room in Brandon's home a few blocks away, effectively becoming part of the Dick family. For the first time in his life, he had a place he called home.
Now, it's gone.
As soon as he and Brandon, 16, found what was left, they scrambled onto the roof and surveyed the mess spread out beneath them.
"There's our dishwasher!" Brandon exclaimed.
Darius pointed in the other direction: "That over there was my room."
Darius and Brandon both play football for the Southmoore High School Sabercats, a team that prides itself not only on its win-loss record, but its relationship with the community. In the last five years, the team has held a big fundraising drive every March, raising tens of thousands of dollars for the team and donating 10 percent to charity.
The storm reversed that dynamic. The coach called on the community to help his players. The community quickly rallied, writing checks to affected families.
In their way, Darius and Brandon gave some of that money back. They went to Walmart to buy new outfits. Brandon picked out the silliest clothes he could find -- a neon-green T-shirt accessorized with a cheetah-print bandana he tied around his neck. He wanted to give people a diversion by making them laugh, he said.

As they gazed at the ruined neighborhood, something nearby caught Brandon's eye -- a photo album sticking out of the rubble. Darius picked it up and brushed the dirt off one of the pictures.
"This isn't even our family," he said.
He tossed it back on the pile.
A few feet away, amid the remains of the kitchen, something else grabbed their attention: an unbroken egg.
"Tell me how this egg made it," Brandon said in a tone of disbelief.
He picked up a metal baseball bat and cocked it back and tossed the egg in the air.
"You'll get egg everywhere!" Darius protested.
Brandon shattered the egg in one swing.
Darius and Brandon were spared some of the worst sights of the disaster. They rode out the storm in fortified room at their high school, and learned their home had been destroyed through a text message. By the time they walked back to the neighborhood, medics and volunteers had removed those who were killed or hurt. The teens saw ruins, not corpses. Still, it was a painful sight, and Brandon broke into tears.
"People were trying to comfort him," Darius recalled. "I said, 'Let him go, let him cry it out. This is a hard, crushing thing to see.'"
Brandon's stepmother, Sarah, had not been spared.
As the tornado tore through the neighborhood, she sat huddled in a shelter under the garage with Brandon's dad, Andy, and their adopted daughter, Jadyn. After it passed, she stayed behind to help survivors. As a former Army medic, she felt it was her duty.
Around the corner of her house, a baby lay in the rubble. A few feet away was the crushed body of a very young boy.
She picked up the baby. Its face was blue and its heart had stopped. She tried to resuscitate it, but after a while she gave up.
As she recounted the story two days later, her voice cracked and tears welled in her eyes. She tried to collect herself, fanning her face with her fingers.
"I had to walk away," she said.
She spent the next few hours racing around the neighborhood, cobbling splints together out of pieces of wood, elevating people's feet under piles of bricks. She still hadn't heard from Darius and Brandon and didn't know whether they were okay, but felt she had a chance to save people and she couldn't bring herself to leave.
That night, after the worst was over, she went to Walmart to pick up some cash that her relatives had wired to her. When she got there, she learned that the cash distribution center was closed. She collapsed on the floor and vomited.
Darius and Brandon have known each other for years, but their friendship solidified one night over the summer, when they climbed onto the roof of their high school and talked for hours. They discovered they had a lot in common. They had both moved around a lot as kids, and had both been estranged from their fathers to different degrees.
They even looked sort of alike. Darius was black, and Brandon was American Indian and Puerto Rican, but they were both among the smaller members of the football team. After a few months of friendship, they adopted similar hairstyles -- variations on the Mohawk, with peroxide accents.
Back at the ruined house, Darius and Brandon climbed down from the pile, and Darius took the bat from Brandon and gave a few good whacks to a broken cupboard. "When else do you get a chance to beat the crap out of your own house?" he asked, grinning.
As they walked away, Darius paused in front of the place where had been sleeping for the past four months. "That was my bedroom," he said.
He thought about this for a moment. "Well, I didn't really have a bedroom," he said. "I didn't have a legit bed. I basically slept on the floor."
Beyond the shards of wood, you could make out the remains of a closet. "Some of my clothes are hanging up in there," he said, "but I'm not trying to look for that right now."
Standing nearby, Brandon said he often stayed up at night feeling guilty about Darius's status in the family. "Even though we have accepted him into this family, when I went to bed at night, I thought about how he was sleeping on the floor."
"He wasn't completely, literally living with us," Brandon said. "Even though he was."
"It was the only place I could call home at the moment," said Darius, helpfully.
"I bet you know when we move to our new place," said Brandon, "that will feel more like home."
BEFORE YOU GO
PHOTO GALLERY
May 2013 Central U.S. Tornadoes (GRAPHIC IMAGES)
05/23/2013 12:46 PM EDT
Oklahoma Governor: Missing Have Been Accounted For
All people thought missing have been accounted for at this time.

— Governor Mary Fallin (@GovMaryFallin) 2 years ago
05/23/2013 12:43 PM EDT
Oklahoma Governor Posts Update
Updated fatalities, deaths and missing persons:

The 5/20 tornado has lead to:

377 injuries

24 deaths.

— Governor Mary Fallin (@GovMaryFallin) 2 years ago
05/23/2013 6:26 AM EDT
Volunteer Shows Dedication To Helping Tornado Victims, Rescuers
Shaunta Strong has worked 2 days straight. Making sandwiches for victims & first responders. twitter.com/KatyJBlakey/st…

— Katy Blakey (@KatyJBlakey) May 23, 2013
05/23/2013 4:58 AM EDT
Rough Weather Forecast To Hit Tornado-Ravaged Region
Storms with dangerous lightning/small hail/downpours expected near OKC metro through at least 9 am. #okwx

— NWS Norman (@NWSNorman)
05/23/2013 2:05 AM EDT
Okla. Mom Recalls Being In Labor During Tornado
While the Moore Medical Center crumbled around her on Monday afternoon, Shay-la Taylor was in labor with her second baby boy.
The mom-to-be knew about the severe weather watch as she checked into the hospital to be induced at 9 a.m. that morning, but says she wasn't really nervous.
"We're used to tornadoes and sirens," the 25-year-old mom told HuffPost in a phone interview. "If you freaked out every time you heard a siren, you'd have an anxiety attack every May in Oklahoma."
Click here to read the rest of her tale.
--Farah L. Miller
05/23/2013 12:47 AM EDT
Sheriff's Department Offers View Inside Plaza Towers Elementary
Plaza Towers Elementary where 7 children died from the #tornado.We pray their families one day find peace. #okcoso twitter.com/OkCountySherif…

— Oklahoma Co. Sheriff (@OkCountySheriff) May 23, 2013
05/22/2013 11:37 PM EDT
California Cupcakery Holds Fundraising Event For Oklahoma
Sprinkles Cupcakes in Los Angeles plans to donate all of the proceeds from their (ever-popular) Red Velvet cupcake sold on May 22 to support Oklahomans affected by Monday's tornado.
"As a native Oklahoman with my parents and brother still living in Oklahoma City, I am especially heartbroken by this devastating tragedy," Charles Nelson, co-founder of Sprinkles, stated on Facebook.
For more, click here.
--Sasha Bronner
05/22/2013 11:07 PM EDT
PHOTO: Kevin Durant Tours Tornado-Ravaged Moore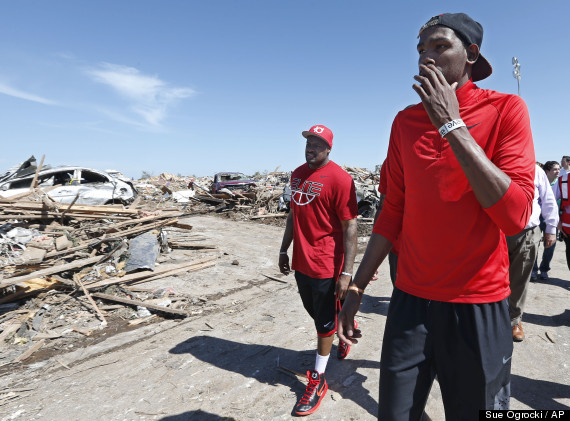 Basketball player Kevin Durant viewed tornado-damaged homes in Moore, Okla., on Wednesday. The Oklahoma City Thunder star also donated $1 million to the American Red Cross for relief efforts. The Thunder later matched the $1 million donation. (Sue Ogrocki / AP)
05/22/2013 10:56 PM EDT
Mail Service Alternatives Offered In Storm-Damaged Areas
The post office branch in Moore, Okla., was one of the thousands of buildings damaged or destroyed by Monday's twister. To help residents impacted by the disaster, the US Postal Service is setting up mail service alternatives in the area, News9.com reported.
Some of the options being offered include held mail, portable post offices and delivery service through an alternative office nearby. Letter carriers will also attempt to deliver mail wherever possible.
Click here for more.