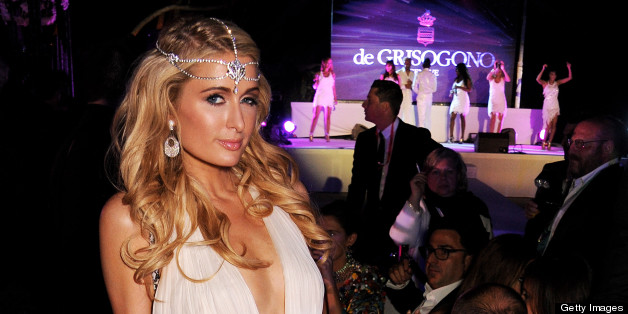 Good news for fans of real, quality music! Paris Hilton has signed with Cash Money Records and is working on a house music album that will supposedly be released this summer.
Still there? Hilton broke the news to Showbiz411 at a party in Cannes, where the heiress is because she's an actress or filmmaker supporting "The Bling Ring," a Sofia Coppola movie about the pretty girl crime syndicate that burglarized Hilton in real life. (The movie was filmed in part at Hilton's home.)
Showbiz 411 says that Hilton will join Drake and Nicki Minaj, so it's likely she's actually signing with Young Money Entertainment, a subsidiary of Cash Money. Hilton also claims Dutch house producer Afrojack is helping her out, an interesting tidbit given that the two were previously rumored to be dating. Hilton was a constant presence on his tour and in his "Afrojet," but the producer is now said to be dating DJ Bambi.
"This is a lot different than my first album," Paris said. "It's really going to be house music."
For those who are unfamiliar, Hilton first blessed the music-listening world in 2006, when she released "Paris" on Heiress records. It reached the top ten on the Billboard albums chart, but received decidedly mixed reviews. She also recently dropped a track with Lil Wayne and starred in a Rich Gang music video.
As for her work in house music, Hilton has already scored a few DJ gigs (though she needed a tech to come out and fiddle with the mixer while she danced her way through her hands-free set) and is reportedly doing a residency in Ibiza this summer. A-Trak called videos of her performance "'SNL' worthy" and deadmau5 simply retorted that "the Mayans saw this sh-t coming," but apparently that hasn't stopped Paris from moving boldly in the direction of her electronic dance music ambitions.
There you have it. Cash Money Records, where dreams come true.
PHOTO GALLERY
Grammy Awards 2013
BEFORE YOU GO