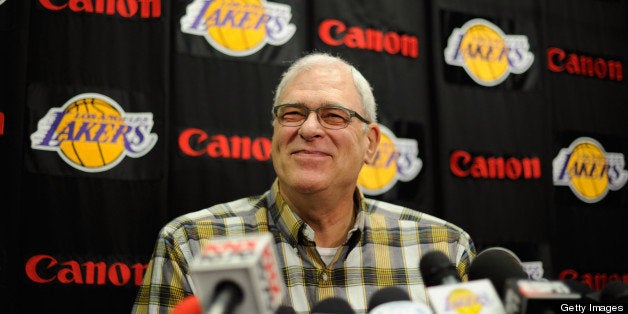 Jackson, who won 11 NBA championships as a coach with the Lakers and Chicago Bulls, retired after the 2010-2011 season but came close to returning to the sideline at the Staples Center during the team's tumultuous 2012-2013 campaign. Instead of bringing back Jackson, however, the team opted for D'Antoni, who had won zero NBA championships during stints with the Denver Nuggets, Phoenix Suns and New York Knicks.
Upon learning of the team's decision, Phil laughed.
"I laughed. I mean, it was was humorous when, to me, Mitch said that we think that Mike is a better coach for this group of guys," Jackson said during ESPN's "Mike & Mike in the Morning" radio show on Wednesday morning when asked if he was upset by the hire. "But, you know, I think that they were looking at maybe a long-term situation. They were looking at 'speed ball.' They were looking at getting back the .... what the Lakers have always hoped to have is 'Showtime' basketball again. That's something that kind of resonates with their '80s teams and is kind of like an image that I think has continually been part of the Lakers' history is that flowing game they had when Magic was handling the ball and Worthy and various guys were running the wings and, you know, they were out there scoring 110, 115 points a game."
While speaking at length about his near-reunion with the Lakers, Jackson noted the he believed D'Antoni was a better fit to coach point guard Steve Nash while he was likely a better fit with the team's frontcourt players.
"I think it didn't happen because there was some concern, How are we going to move in the right direction for this ballclub?" Jackson told Mike Greenberg and Mike Golic. "When Mitch gave me the call close to midnight on a Sunday night right before I was going to give them an answer Monday morning and said, 'We've made a choice. We're going to hire Mike D'Antoni. We think he's the best coach for this group of guys,' My answer was, 'For Steve Nash, yes, I agree, but for Dwight Howard, I'm not so sure.'"
Lakers fans, who chanted "We Want Phil" before and well after the team announced its decision to hire D'Antoni, seemed at least as uncertain. Speaking just days after he was hired, the architect of the "7 Seconds Or Less" offense also admitted he had friends in Los Angeles who preferred Jackson for the job.
"First of all, I understand exactly," D'Antoni told Mason and Ireland of ESPN Radio L.A. at the time. "Are you kidding me? I was surprised. In the sense of seeing the natural fit, or whatever, but you never know what happens or what goes on. … I know he's a great coach — has been, will be. One of the best, if not the best. I've got some really close friends that are Lakers fans, and they were disappointed. That's the way it goes. I'm going to do everything I can do to win a championship."
In D'Antoni's first season in Los Angeles, the Lakers did not win a championship. Hampered by injuries, the Lakers struggled to even reach the playoffs. Once there, they were swept aside by the San Antonio Spurs in the first round. While D'Antoni's future in L.A. remains uncertain, Jackson claims that he wouldn't be a candidate if the job were to become available again.
"I don't see myself coaching again, I really don't," Jackson told Mike and Mike. "When I discussed this with Jeanie Buss, she said, 'Make sure you tell them that Jeanie still thinks you can coach even though you might say you're not going to coach again.' Jeanie still thinks I can coach, but I'm not going to go there."
BEFORE YOU GO
PHOTO GALLERY
101 NBA Posterizations