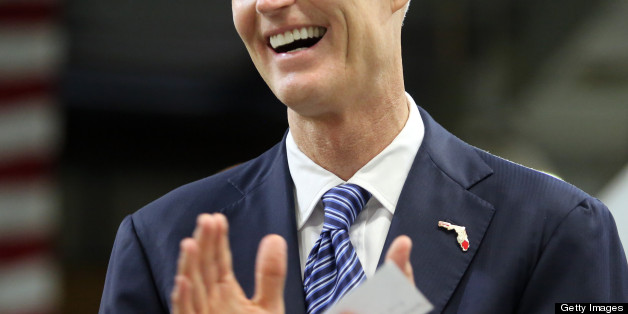 Florida may finally escape its fate as a national embarrassment during elections: Florida Governor Rick Scott has signed a bill reinstating additional days of early voting in the Sunshine State, just two years after he championed an effort that reduced them.
The 2012 Presidential Election was a nightmare in Florida with the final tallies coming in days after Obama officially won.
"Here's the good news: The election was decided without them,'' comedian Jon Stewart joked. "For once, Florida's clusterf---ery is irrelevant.''
Florida's 2012 voting "clusterf---ery" included a controversial voter purge, shortened early voting thought to target minorities who vote Democrat, understaffed polls, strict provisional ballot restrictions, nine-hour lines, and 10-page ballots.
At least 201,000 Florida voters did not cast ballots on Election Day 2012 because they were discouraged by the long lines that ballooned at polling places.
Meanwhile Scott told reporters two days after the election,"Well I'm very comfortable that the right thing happened."
Yet Scott had a change of heart as he nears reelection.
Monday he signed a bill that reinstates many of the 2012 reductions the conservative Florida legislature pushed through before the election.
The new bill extends early voting from 8 days to 14, extends early voting hours from 8 to 12 hours a day, and expands polling places to include courthouses, civic centers, stadiums, convention centers, fairgrounds and government-owned senior and community centers to keep up with crowds.
It also seeks to make ballot length more manageable by restricting constitutional amendments to a maximum of 75 words, and loosens some of the restrictions on when voters have to file provisional ballots.
It also permits county supervisors to hold early voting on the Sunday before the election, "respecting the 'souls to the polls' tradition of many black churches," as reported by the Florida Current.
The bill moves back Florida's primary elections from January to the first Tuesday allowed by Democratic and Republican National Committees to avoid penalties.
And lastly, the bill imposes $25,000 fines for failing to fix voting machines, something that reportedly snarled elections in Palm Beach County, according to the Sun Sentinel.
"Sometimes it felt like climbing a mountain with concrete boots," said Deirdre Macnab, president of the League of Women Voters of Florida, "but with the governor's signature on this election reform package, Florida has achieved what many of us thought at one time might be impossible: a huge improvement to our democratic process and a giant step forward for Florida voters."
The bill is not without critics however.
Some Democrats in the Senate worried it gives local election officials too much discretion and makes it more difficult to distribute absentee ballots, according to the Tampa Bay Times.
BEFORE YOU GO