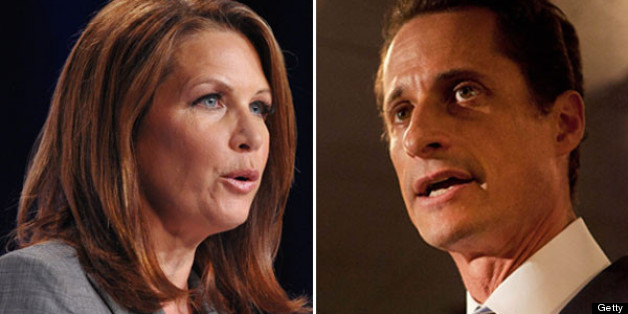 Former Rep. Anthony Weiner (D-N.Y.) spoke Thursday about Rep. Michele Bachmann's (R-Minn.) attacks on his wife, Huma Abedin, last year, telling Talking Points Memo that the incident made him regret not being in Congress.
"When there was an outrageous attack on my wife by members of Congress accusing her of all kinds of things..." Weiner told TPM when asked if there were any times he missed being involved in politics. "I couldn't help thinking that, if I were there in that chamber, Michele Bachmann and her like might not have done that type of thing and her and her family wouldnt have been dragged through that process as they were."
Last summer, Bachmann and other congressional Republicans accused Abedin, a longtime aide to former Secretary of State Hillary Clinton, of being influenced by the Muslim extremists.
"It appears that there has been deep penetration in the halls of our United States government by the Muslim Brotherhood," Bachmann said during a radio interview last June. "It appears that there are individuals who are associated with the Muslim Brotherhood who have positions, very sensitive positions, in our Department of Justice, our Department of Homeland Security, potentially even in the National Intelligence Agency."
Bachmann's claims were widely condemned, drawing criticism from Sen. John McCain (R-Ariz.) and others in Congress.
Weiner said he didn't call Bachmann about the incident.
Weiner also expressed regrets to TPM over not being in Congress during Hurricane Sandy, which deeply impacted his former congressional district.
The former congressman announced his campaign for New York City mayor on Tuesday, nearly two years after he resigned from Congress amid a scandal over lewd messages he sent to women via Twitter.
"I frankly have been encouraged by how many people say they're prepared to give me a second chance and just listen to my ideas," Weiner said Thursday after making his first campaign stop in Harlem.
BEFORE YOU GO
PHOTO GALLERY
Politicians Who Wanted A Second Chance