Despite a slight embarrassment last week at Cannes, Eva Longoria has nothing to be ashamed about: The brunette beauty joined many graduating students who this week received their degrees.
The former "Desperate Housewife" got her master's degree in Chicano and Chicana Studies from California State University Northridge (CSUN). A rep for the 38-year-old actress told TMZ that Longoria began the program while she was still working on "Desperate Housewives" three years ago, and found time to complete her schoolwork on the set.
And despite being a high-profile student, Longoria didn't hold back her excitement. On Wednesday she tweeted "Big day today!!! Very excited to graduate for my Master's degree in Chicano Studies! You're never too old or too busy to continue your education!"
In my cap and gown with mom and dad! I look like Harry Potter! say.ly/zdO5SK5

— Eva Longoria (@EvaLongoria) May 23, 2013
Aaand here it is! Me and my diploma! say.ly/Lhy5SOQ

— Eva Longoria (@EvaLongoria) May 23, 2013
Longoria also celebrated with her very proud parents, Enrique Longoria Jr. and Ella Eva Mireles, by going to dinner after the ceremony, reports the New York Daily News.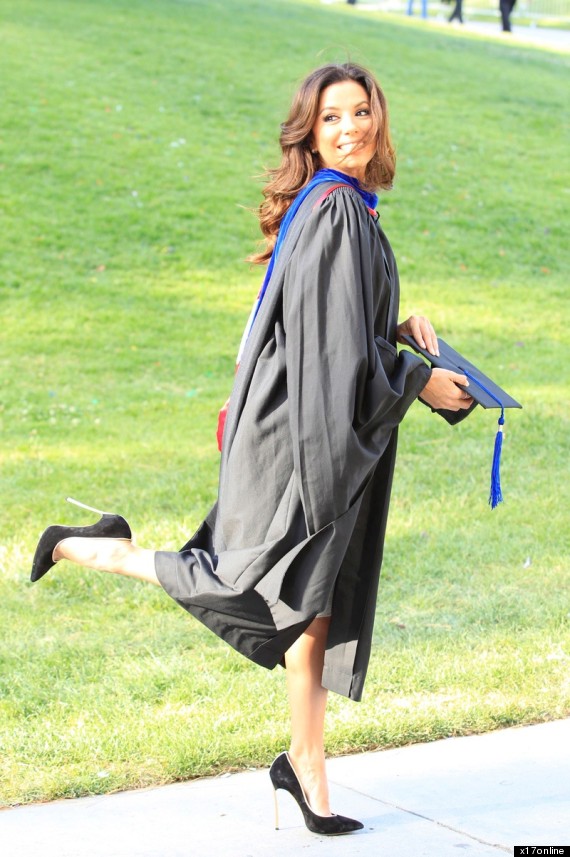 BEFORE YOU GO
PHOTO GALLERY
Celebrities Giving Commencement Speeches In 2013